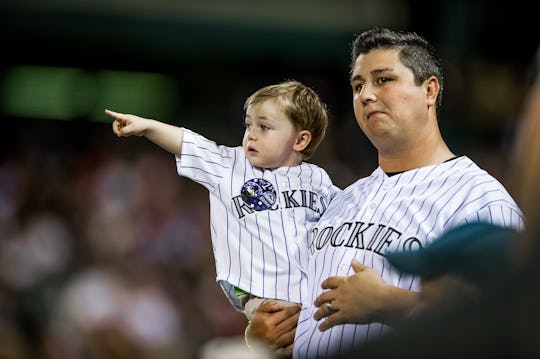 Dustin Bradford/Getty Images Sport/Getty Images
Should You Take Your Toddler To A Baseball Game? Make It A Family Tradition
Ah, April! While the proverbial April showers are a precursor to May flowers as we transition into springtime, one thing is already here this month: the season of peanuts and cracker jacks. That's right, it's time to root, root, root for the home team, because Major League Baseball teams across the country are kicking off their seasons, and both wholesome family-friendly fun and the antics of raucous, beer-guzzling fans will ensue. Playing and watching baseball is — right now, at least — America's greatest pastime. While an evening under the stars at the ball park is a great date-night activity, the situation becomes a little trickier when toddlers are involved. So, should you take your toddler to a baseball game? Or is it better to have your little one stick to Little League for now?
It's true that all the new sights, smells, and noises of a professional baseball game could make any toddler kinda cranky (but then again, what doesn't?). But the opportunity to make memories with your kids and expose them to one of our country's most enduring good times outweigh the challenges. So, I say pack provisions, get in a happy headspace, and go for it!
Remember, although toddlers are definitely too young to grasp the basic rules of the game, there are plenty of other activities that will likely catch their attention. For example, at the end of the fifth inning at Pittsburgh Pirates home games, the "Pirates Pierogies" run the 280-yard pierogi race. It's a favorite of kids and adults (ahem, me) alike.
And beyond entertainment — I haven't event mentioned the joy of the seventh-inning stretch, or the pure fun of dancing for the Jumbotron — it's so important to spend quality time with kids. Exposing them to the game now may inspire them to look up to the players and pursue sports (and, therefore, a healthy, active lifestyle). But it will also foster parent-child (and sibling!) bonding. Of course, other activities offer similar opportunities, but toddlers are young and small enough to sit in their parents' laps, and their tickets are usually free!
Enjoy that advantage now though, because when older kids go to baseball games with their parents, they often end up spending the entire time looking down at their cellphones. In a few years, you could end up having to save them from an errant bat, like this dad did, because of it. So in that sense, it could be that bringing a toddler to a game is a best-case scenario. (At least for them. You, on the other hand, still need to be on the lookout for flying bats and baseballs.)
Even if it's just one game over the course of the entire season, attending a MLB game with kids introduces them to an American tradition, and more importantly, a family one.