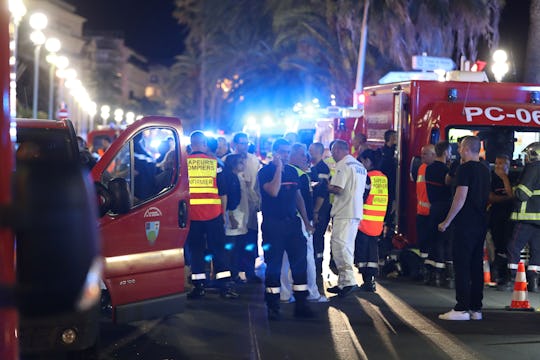 VALERY HACHE/AFP/Getty Images
Should You Talk To Your Kids About The France Crash? Being Honest & Open Is Important
Late on Thursday evening, crowds of people were celebrating Bastille Day in the popular French city of Nice, waiting for a firework show to begin, when an enormous white truck sped into the groups of spectators along the Promenade des Anglais seafront, killing at least 77 and wounding 50 more. The driver later got out of the vehicle and began shooting at people and was then shot dead by police, which has led local authorities to believe the incident was a targeted attack. Christian Estrosi, the president of the southern region, called the crash "the worst tragedy in the history of Nice." When horrific events happen it's normal that parents want to protect and shelter their children from these tragedies. Graphic images and footage along with consoling messages and tributes have quickly spread on several social media platforms, so parents might be wondering if they should talk to their kids about the Bastille Day crash in France.
Update: French President Francois Hollande announced Friday that the death toll had risen to 84 and at least 50 people were in critical condition "between life and death," according to ABC News.
This will probably, and understandably, be a tough call for most parents with little ones. But, considering how fast news, especially like this, tends to spread (and as children gain further access to the internet), it's likely that they may stumble upon the news themselves.
Parents know best and they may have to trust their instincts. Parents also know what their children can handle and how they might react to extremely upsetting news. Tragedies affect everyone, both adults and children, and they unfortunately happen far too often.
Sadly, parents may have been faced with the same predicament last year after the attacks in Paris that left 130 people dead and just last month after a shooting at an LGBT nightclub in Orlando, killing 49 people.
Children often turn to adults for answers and comfort after terrifying tragedies, so it's important to remember that it's normal for your child to be emotional and curious after hearing or seeing upsetting news.
The Child Development Institute recommends trying to watch the news with your kids and to listen to the questions and answer them honestly. They also say to remember that with children younger than 9 years old, to try and be as uncomplicated in your answers as possible without going into gory detail.
"Children need to understand what is happening around them to feel secure," according to the Child Development Institute. "Provide them with facts about what happened and acknowledge it was a terrible and frightening event. Help them to see that we share their feelings."
According to experts, honesty is key when discussing these terrible events. After the terror attack in Paris, Harold Koplewicz, the president of the Child Mind Institute, told Time that parents should not delay the discussion.
"It's very likely that your child will hear about what happened, and it's best that it comes from you so that you are able to answer any questions, convey the facts, and set the emotional tone," Koplewicz told Time last year. "By initiating this dialogue, and allowing and encouraging your children to express their feelings, you can help them build healthy coping skills that will serve them well in the future."
It may be a difficult discussion, but a truthful and open dialogue about a tragedy like Thursday's attack in France may benefit your child's development for future events. Children need to understand what is happening around them and it's OK for them to know you are also upset by such a frightening event.
Remember to listen to your gut and to consider your child's age and maturity level. If it feels like the conversation is too much, pull back and revisit it later on. Children will turn to their parents to feel safe, voice their emotions, and to answer the tough questions that even adults sometimes don't know the answer to. But, giving them an outlet for these needs is one way to help them cope with these tragic events.