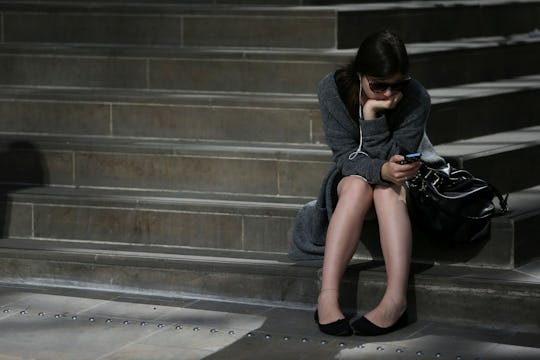 DANIEL LEAL-OLIVAS/AFP/Getty Images
Should You Wait To Download iOS 10? Some Early Adopters Are Warning Against Updating
Following the unveiling of the iPhone 7 last week, Apple released its newest mobile software update on Tuesday. But some users are cautioning that it might be best to wait to download iOS 10, because of a possible bug that's "bricking" phones, or making them unusable. Apple released a statement admitting that it "experienced a brief issue with the software update process, affecting a small number of users during the first hour of availability," according to CBS News, but that "small number" is making a lot of noise on Twitter — and they're not happy.
Thankfully, it seems things are back on the up and up: Users whose phones were affected by the bug are advised to connect their phones to iTunes via their computers to restore the old update, according to CNNMoney. Apple has stated that the problem is now resolved, but it's never a bad idea to back up data before updating anyway, just in case. This can be done by connecting to iTunes on the computer, tapping on the device name, and clicking "Back Up Now."
Once all those photos and contacts are safe and sound, go ahead and update by going to "Settings," then "General," then "Software Update," then clicking "Download and Install."
When the update works properly, it's pretty great, according to Tech Radar. The update is available for iPhone 5, iPad 3, iPad Mini 2, and iPod Touch 6th generation or newer. The first difference that users will notice is that "Slide to Unlock" is now gone. Devices running iOS 10 will now wake up when they're lifted, and "Slide to Unlock" has been replaced by "Press Home to Open." This combination makes it less likely to accidentally miss lock screen notifications, but will phones be more likely to unlock themselves while rattling around in a purse or backpack? That much remains to be seen.
Lock screen notifications have also been updated; Users will now be able to hard press on many notifications to interact with them. That means replying to texts, accepting calendar invitations, and more can be done without unlocking. And sliding right from the lock screen will automatically open the camera, which is great for anyone with a cute but fast-moving child or animal at home. Unlock, find the camera icon, and then open it? Ain't nobody got time for that!
Siri has gotten smarter now, and will be able to understand users when they speak normally, so gone are the days of carefully phrasing sentences. Third party apps like Slack, Uber, and WhatsApp are now integrated with Siri. And in a creepy new development, QuickType (an opt-in service) will stalk users in order to save time. OK, it's actually pretty cool: if someone texts, "Where are you?" QuickType will use GPS to give users the option to reply with an address just by touching one button. And it can parse conversations when users are making plans with friends to autofill the calendar. For example, if two people are texting back and forth about going to see a movie, and one mentions the theater, and the other mentions the showtime, when they open their calendars to schedule the date, it'll already be there.
Is this the Rise of the Machines? Probably! Are we OK with that? Eh, I guess so.