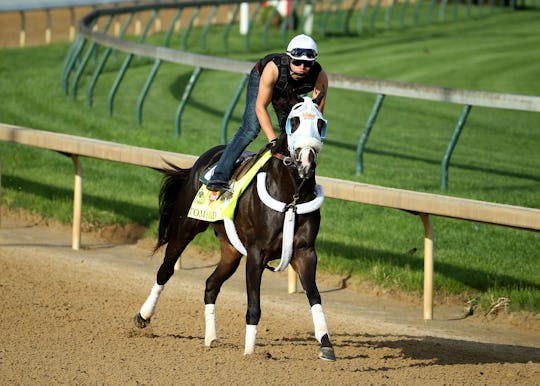 Andy Lyons/Getty Images Sport/Getty Images
Should Your Kid Watch The Kentucky Derby? It's A Historic Sporting Event
The Kentucky Derby is the longest continually held sporting event in America. Founded by Meriwether Lewis Clark in 1872, the first race was run at Churchill Downs in 1875 — after Clark acquired the site where the infamous racetrack now sits. The Kentucky Derby has been held for 142 years and counting, and while the annual horse race is synonymous with big hats, big bets, and mint juleps — Mmm, mint juleps — it has quite an amazing history. But is the two-day event "appropriate" for kids? Should your child watch the Kentucky Derby? I say go for it, but it's honestly up to every parent and their own opinions of horse racing.
You see, I look at it this way: if your kiddo wants to sit down and watch horses run in circles for two minutes — after watching hours and hours of commentary — more power to them. I know that sounds snarky but I swear it isn't meant to be; I just know my daughter would lose interest in five minutes, or less. However, if horses are their thing — and/or ornate hats and announcers with Southern drawls — I say go with it. Assuming they're younger, they likely won't understand the ethical questions associated with the event (the use of horses, the gambling), and those are conversations that you could have with them. Or you could save those for when they're older, and use the time to get a few things done around the house, or you could just make mint juleps.
But more about the Derby's history, and the event itself. The first Kentucky Derby was held on May 17, 1875, according to the event's official website. Fifteen 3-year-old Thoroughbred horses raced that day, in front of approximately 10,000 spectators, and a horse named Aristides won the race. And while the Kentucky Derby has undergone various changes over the last century and a half — from changing the distance of the race to figuring how to accommodate growing crowds — the event has embraced each and every change, as have Derby fans.
Now, the Kentucky Derby, which is always held on the first Saturday in May, draws a crowd of 150,000-plus people. What's more, the event is often referred to as "the Most Exciting Two Minutes in Sports" — because yes, that is the length of time it takes the winner to run from the starting gate to the finish line. (The two-day event really comes down to two minutes.)
For those who are "tuning in," the Kentucky Derby will be broadcast live on NBC on May 6, from 12:30 to 6 p.m. Eastern Time, and again on May 7, from 4 to 7:30 p.m. Eastern Time.