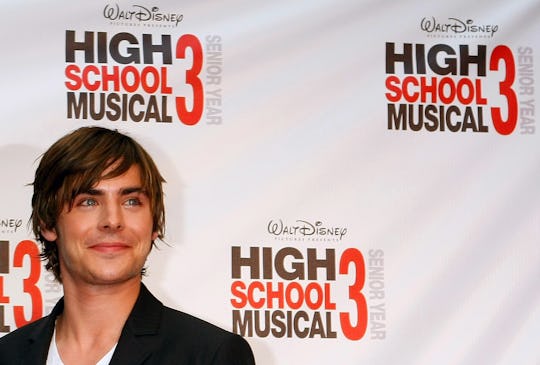 Lucas Dawson/Getty Images Entertainment/Getty Images
Should Your Kids Watch 'High School Musical'? It's Relatively Kid Friendly
It's hard to believe, after all these years later, the High School Musical franchise is still going strong. In fact, production is underway for a High School Musical 4 with a new cast of characters at East High. But it's been a decade since we first fell for Troy, Gabriella, and so-bad-she's-good Sharpay and watching High School Musical 4 as a mother with kids is a whole different situation. So when the fourth installment drops, should your kids watch High School Musical?
For answers, I turned to Common Sense Media, which is a great place for parents to turn for ratings and rundowns of media and reasonable ratings on its appropriateness for kiddos. Common Sense rates High School Musical appropriate for 8-year-olds and older and calls it a "modern day Grease for tweens." The review is overall positive and recommends the flick based on it's messages about friendship and "being true to yourself." Plus, let's face it, if you miss the message, the tunes and dance numbers more than make up for a bit of cheese.
The only potentially objectionable part of the movie, according to the reviews from parents, is the blossoming romance between Troy Bolton (Zac Efron) and Gabriella Montez (Vanessa Hudgens). As one reviewer, "PROUDMOMMY" explained in her review with the not-so-subtle headline "NO NO NO NO NO NO."
"I only let my 15- and 17-year-olds watch it once," she wrote. "I was thinking about letting my 13-year-old watch it but I decided no there's too much flirting and kissing and dating—ICK! So no no no no no no no no...."
Another parent review DexterSmith also pointed out that "Troy is shirtless in one scene," he wrote. "A song contains the lyrics, 'shake some booty and turn around.'"
But far more parents wrote that the movie is positive, fun and that kids go crazy for the music. Reviewer Cyclone 411 wrote that, even though they were totally prepared to be turned off by the Disney movie, both he or she and their 7-year-old daughter loved it. "Turns out this movie is a lot of fun," Cyclone411 wrote. "The songs really are infectious and the huge cast dance numbers are exciting and energetic."
But, they added a warning: "But beware, my daughter is redecorating her room with HSM stuff!"
The next installment in the movie series, High School Musical 4, is sure to stick to the original, successful formula with an all-new cast and story line. But if you have a little one you'd like to introduce to the old generation of High School Musical before the latest installment is released, chances are everyone in the family will be able to join in on the fun — assuming a little flirting and a young, shirtless Efron doesn't bother you too much.