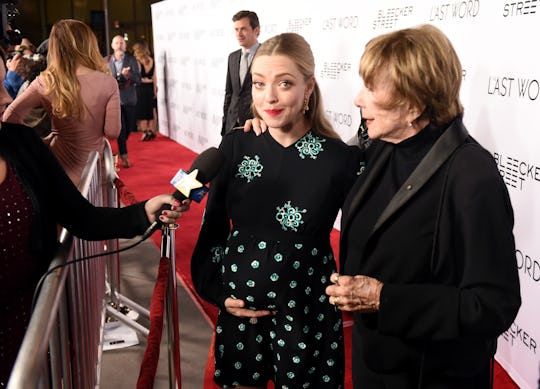 Kevin Winter/Getty Images Entertainment/Getty Images
Amanda Seyfried: *Cool* Mom, Not A Regular Mom
While the thought of a little mini Karen Smith may be entertaining, Amanda Seyfried herself will probably produce a much more grounded child — which is why the news of her pregnancy has honestly been totally exciting. The recently engaged screen goddess has always been the perfect combination of hilarious, intelligent, and relatable, and as such, there are plenty of signs that Amanda Seyfried will be a great mom, but more importantly, a cool mom. (Not, like, a regular mom.)
Seyfried and her fiancé, Thomas Sadoski, who were engaged in September, announced that they were expecting back in November, and since then have been spotted being adorable and perfect numerous times since. According to Sadoski, Seyfried is already killing it in the pregnancy game. "I am more proud of Amanda than I've ever been of anybody in my entire life because she's been an incredible mom already, and we haven't even gotten to go time yet," Sadoski told Us Weekly at a red carpet event early in March.
From her honest interviews, to her subtle slaying of the red carpet, it's basically a given that Seyfried will totally rock motherhood, in the best way. She is an advocate for women's rights, stands up for those disenfranchised, and picked the coolest delivery soundtrack to listen to while giving birth. For all those reasons and more, Amanda Seyfried is set to be a great mom, despite this crazy world we seem to be living in now.
She's Already Great With Kids
Seyfried's latest film project, The Last Word, features Seyfried portraying a young writer, charged with penning the memoir of a successful business woman, played by Shirley McClain. Also in the movie? AnnJewel Lee Dixon, in her breakout role, and who Seyfried has seriously bonded with:
She Is A Serious Animal Lover
Along with her love of kids, Seyfried can also add "animal rights activist" to her resume, and is a total dog mom to adorable little Finn. Seriously, girlfriend even has an Instagram account just for her pup. She also regularly posts about animal shelters who need help, or pups who need a forever home. Seyfried is a friend to all living creatures, and it's clear she has an inordinate amount of love in her heart.
She's Honest & Not Afraid Of Failure
In a recent interview with Elle, regarding her new movie, Seyfried spoke out about not letting her fear control her. "Even if you take a risk and you fail, that failure is going to teach you so much and take you to another place," she said. "It's always worth it. It's always fucking worth it." Seyfried is wise beyond her 30 years, and it's clear that she will take all that she's learned in life and apply it to motherhood, especially that cup of patience.
She's Got A Killer Sense Of Humor
No explanation needed.
She's A Feminist
Who better to teach the next generation about the power of being a woman and how to use that power responsibly?
Congrats, Amanda! You're going to rock this parenthood thing.