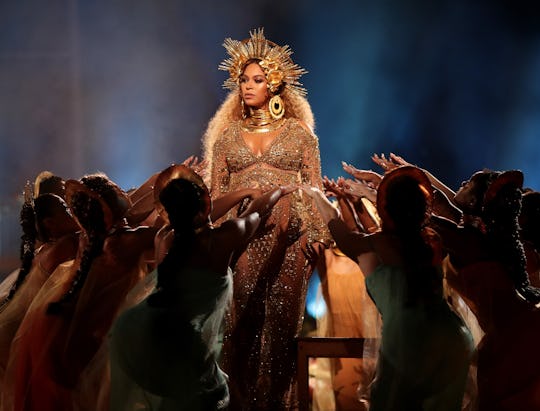 Christopher Polk/Getty Images Entertainment/Getty Images
Signs Beyonce's Twins Will Be In The Illuminati
The internet is back at it again, trying to prove that Beyoncé is actually a member of a super-secret organization known as The Illuminati, populated by the rich, famous, and powerful. Conspiracy theorists also believe it's only logical that her children must also be inducted, and there are plenty of theories about Blue Ivy's involvement. With her incredible pregnancy announcement a few weeks ago, the internet is awash with signs Beyoncé's twins will be in The Illuminati — because that's what the internet does.
Ascribing Illuminati status to celebrities is not new, nor is generating theories about Beyoncé's involvement. That's been going on for, oh, the better part of a decade. She even opened Lemonade by calling out the internet conspiracy theorists — who insist she's a member of the elite org — in Formation's lyrics: "Y'all haters corny with that Illuminati mess."
Of course, unlike other celebrities who theorists think are members, the internet rightfully assumes that if Beyoncé's a member, she's like, the most important member. Like, the Queen of the Illuminati — if that's a thing. But how did the rumors even start? Depending on who you ask, the first titters about her alleged Illuminati involvement actually started with Jay Z. The rapper has often been fond of flashing triangular hand signs, as has Beyoncé in recent years. Those who are experts in The Illuminati, the insignia for which is a triangle, have taken these gestures as a sign that, in fact, both Jay Z and Beyoncé have Illuminati affiliations.
The Illuminati arose from another super-secret group, the Freemasons, which many have implied Jay Z is a member of. He actually dispelled this in a song, Free Mason by Rick Ross, in which he rapped: "I said I was amazing, not that I'm a Mason."
The internet didn't stop with Beyoncé and Jay Z, though: more recently theorists have come up with a variety of reasons why their daughter, Blue Ivy, is either already in the Illuminati or is destined for it. Theorists' most widely-touted justification — that her name spelled backwards, Eulb Yvi, was Latin for "Lucifer's Daughter" — was debunked because those words don't even exist in the Latin language.
Undeterred, when Beyoncé announced that she's pregnant with twins, the Illuminati conspiracy theorists were ready to offer up their interpretations: starting with the announcement itself, which they think proves once and for all that she's a member. Everything from the date of her announcement (full of prime numbers, which the Illuminati is partial to) to the details of her amazing pregnancy photo shoot (full of triangles, maybe? Which the Illuminati loves) was up for question.
While the internet will no doubt continue to pursue the ol' Illuminati plot line, if you're interested in some of the "hidden meanings" in Beyoncé's photo shoot, read up on poet Warsan Shire, ("I have three hearts") and several divine goddesses that she pays homage to in the shoot. Beyoncé's art is always deeply meaningful, and both her pregnancy photoshoot and Lemonade offer many layered references to art, literature, and a nuanced portrayal of the lives of black women throughout history — which is way more compelling than that Illuminati mess.