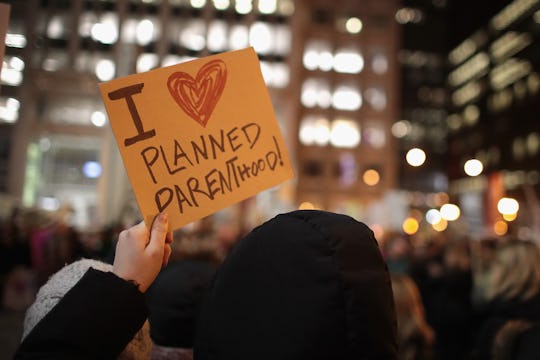 Scott Olson/Getty Images News/Getty Images
Powerful Signs From Planned Parenthood Rallies
Anti-abortion activists held planned protests across the country on Saturday to back the government's plans to defund Planned Parenthood, scores of people dressed in pink turned up to show their support for the women's health services organization. In the midst of the chants and discussions outside clinics nationwide, people took to social media to share their inspirational and poignant signs from many Planned Parenthood rallies with the hashtag #StandWithPP, taking over Twitter as top trending topic. In the sea of pink supporters, the people holding these signs help show just how vital the 100-year-old organization's care is for so many women.
"All across the country, Planned Parenthood supporters are taking it upon themselves to organize in their communities on their own," Kelley Robinson, a leader of Planned Parenthood Action Fund Support, said in a statement, according to The New York Times. "Saturday, and every day, Planned Parenthood advocates and activists show that they refuse to be intimidated and they won't back down."
Anti-abortion groups had planned to rally outside more than 200 Planned Parenthood clinics in 45 states "to call on Congress and President Trump to strip Planned Parenthood of all federal funding and reallocate those funds to health centers that help disadvantaged women without destroying human life through abortion," according to protestpp.com.
In response, some of those demonstrations drew in counter rallies to protest against their message and show their support for Planned Parenthood. According to USA Today, thousands of Planned Parenthood supporters showed up in at a rally in St. Paul, Minnesota and about 300 people turned up outside a clinic in Detroit. ‌
Those who want GOP leaders to defund Planned Parenthood chanted messages that focused on the organization's access to abortions. But, it's important to note that while Planned Parenthood does perform abortions, taxpayer money is only used to pay for them when the mother's life is in danger or if the pregnancy is a result of rape or incest, as covered legally under the "Hyde Amendment."
In fact, most of what Planned Parenthood provides isn't abortion services. As Slate reported, out of the 10 million services Planned Parenthood provides a year on average, only about 3 percent of those are abortions.
Whether it be access to abortions or any of the services that Planned Parenthood provides for woman's overall health, these signs show that there is a lot more at risk other than taking away a woman's right to choose.
These ladies showed that Planned Parenthood provides a lot more than abortions:
This woman who used history to show how vital Planned Parenthood's care is:
These signs showed that access to affordable women's health care is not always religious issue:
This sign that compared gun laws to anti-abortion laws:
These men who showed up to support an organization that gives women the right to choose:
As these signs show, there is a lot at risk now more than ever before. With President Donald Trump along with longtime conservatives Vice President Mike Pence and his Supreme Court nomination judge Neil Gorsuch running the show, the dueling debates like we saw on Saturday will hardly be the last.