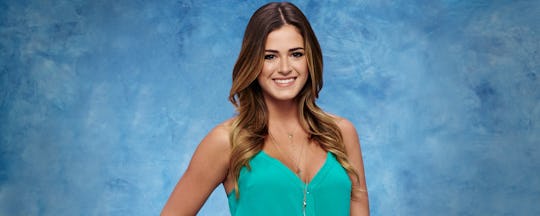 ABC
Signs JoJo Will Win 'The Bachelor,' Because She's Definitely A Fan Favorite
Things are starting to get tense on The Bachelor now that only six women are remaining, and that means speculation on who will become the next Mrs. Ben Higgins is also ramping up. It's still early to say for sure who might end up in those all-important limos, but there definitely seem to be signs that JoJo will win The Bachelor. After saying goodbye to Jennifer, Olivia, Leah and Lauren H. in the Bahamas this week, it's pretty clear that she'll have a pretty good shot at making it to the final two. And if (when!) she does, it sounds like it will be a very emotional finale.
According to Us Weekly, in ABC's sneak peek video teasing the end of the season, Ben admits to being in love with both women, and he certainly seems to really be agonizing about not being able to decide who to propose to (even shedding some tears over it). The clip also hints that Ben — who, let's face it, hasn't exactly been the most conventional Bachelor so far this season — backtracks on his final choice at the last minute after realizing he sent the wrong woman home.
The truth is that the final six women are all pretty awesome. And Ben has already seemed to form some solid connections with some of the women, like Lauren B., Caila, and Amanda. But early chemistry doesn't always translate to lasting love (oh, hey, Olivia!), and JoJo's consistently fun, loving, drama-free attitude definitely seems to be endearing her to Ben, especially since this season has been pretty dramatic.
One thing that definitely stands out as an encouraging sign for JoJo is her upcoming date with Ben in Chicago on Monday night's episode. In the episode preview, JoJo and Ben appear to go on a one-on-one date to Wrigley Field (home of Ben's favorite team, the Chicago Cubs). But, to JoJo's surprise, they are greeted with custom baseball jerseys — with Mr. Higgins and Mrs. Higgins written on the back, according to USA Today (if that isn't a hint, I don't know what is!). Naturally, good-natured JoJo decides that she likes the sound of that, and it looks like the two have a great date together as the heart-wrenching decision gets closer.
But, as great as JoJo is, she still has some stiff competition — namely in fellow contestant Lauren B., who has held Ben's interest in a serious way since the moment she stepped out of the car in the first episode. Lauren B. is also favored to make it to the finale, and if she does, it's no surprise that it'll be a tough decision for this season's Bachelor.
Either way though, JoJo will probably get a happy ending: if she doesn't end up becoming Mrs. Higgins, she'd definitely be a great choice for the next Bachelorette.