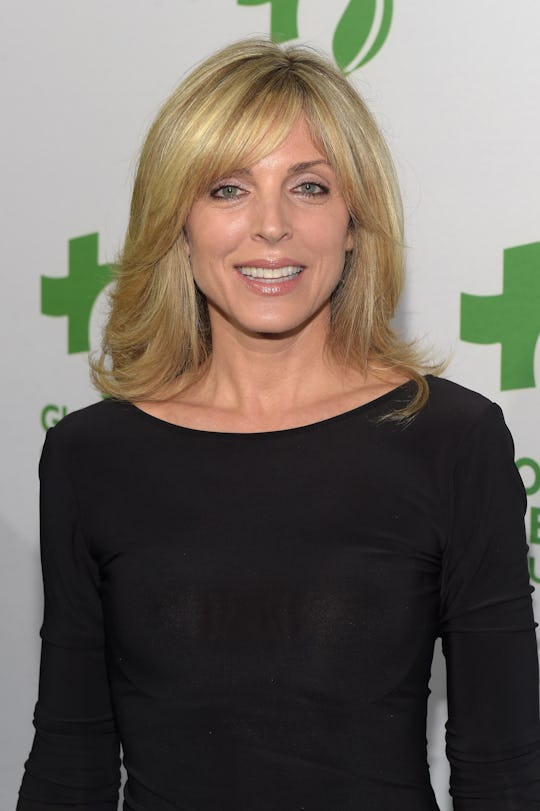 Jason Kempin/Getty Images Entertainment/Getty Images
Signs Marla Maples Leaked Trump's Tax Return — And Signs She Didn't
In a Hollywood-worthy twist for this year's never-ending presidential election, The New York Times published an explosive report on Donald Trump's tax returns, after receiving pages of his alleged tax records from an anonymous source. Now, a juicy theory making its way through the political world is that the anonymous source was none other than Trump's second wife, Marla Maples. There are some signs that Marla Maples leaked Trump's tax return, but also signs indicating that she didn't. Maples did not immediately respond to Romper's request for comment.
Trump refused to release his tax returns of his own volition, even though he was the only nominee from a major political party not to do so for decades. But then, on Sept. 23, Times reporter Susanne Craig found an envelope in her mailbox, marked with a return address of The Trump Organization. It contained records from what appeared to be Trump's 1995 returns showing that Trump claimed a more-than $915 million loss, which may have allowed him to avoid paying federal income taxes for 18 years.
Plenty of people had reasons to leak Trump's tax returns. But Maples in particular may have had not only motivation, but access to the information.
Signs She Leaked The Returns
She was married to Trump in 1995, which means she was a joint filer on these records. One of the pages even has a "sign here" signature flag indicating a place for Maples's signature.
Furthermore, Maples would not face criminal charges for leaking the returns, because they were her returns too. So while she still would be taking a big risk, it wouldn't be an illegal one.
She clearly isn't the biggest fan of Trump, who she divorced after six years of marriage. She raised their daughter, Tiffany, as a single mother on the opposite side of the country, recently telling the Times, "I had the blessing of raising her pretty much on my own." Ouch, blessing? Maples burn! Even worse Maples burn? Back in 1999, when Trump considered running for president, she allegedly told the Telegraph:
If he is really serious about being president and runs in the general election next year, I will not be silent … I will feel it is my duty as an American citizen to tell the people what he is really like.
(Maples later said she didn't remember making that remark.)
Plus, there's this Twitter exchange, in which someone implies that Maples leaked the info, and she responds but doesn't deny it:
Hmm, some very interesting signs pointing towards Marla Maples being this year's Leaker Extraordinaire. However...
Signs She Didn't Leak The Returns
Though she's not the biggest fan of her ex, clearly she is the biggest fan of her daughter. As New York magazine points out, she's historically been very protective of her. So would she really want to blow up the Trump campaign right when Tiffany Trump is stepping up to take a more active role in it?
Plus, Trump has demonstrated time and again that he cannot let things go (just a couple incidents for reference: him bringing up Rosie O'Donnell at the first presidential debate, his 3 a.m. tweet storm against Alicia Machado), so if Maples did leak the info and it ever gets confirmed, she's opening herself up to a world of hatred and pettiness.
Who knows if we'll ever find out for sure?