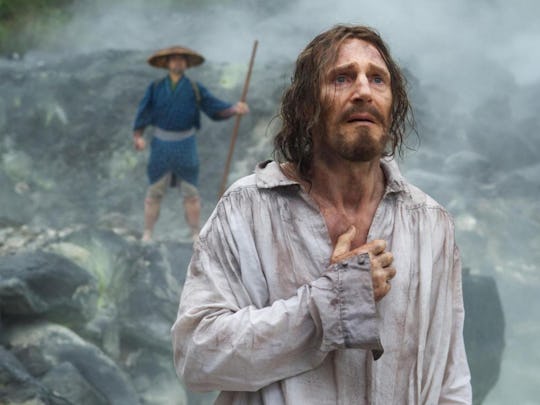 Paramount
'Silence' Was Snubbed For A Golden Globe Nomination, & Twitter Is Disappointed
As much as many have come to expect to be disappointed whenever award show nominations are announced, it's still a bummer each and every time when your favorite projects fail to receive the love you think they've so earned for their efforts. And unfortunately, that proved to once again be true when the 2017 Golden Globe nominations were announced on Monday morning. But while there were many notable snubs throughout the rundown, one standout in the film department centered around Martin Scorsese's latest project, Silence. That's right, my friends, Silence was snubbed for a Golden Globe nomination and in an ironic twist, Twitter was not silent about how they felt about it.
You would think having the backing of Scorsese and the likes of Liam Neeson, Adam Driver, and Andrew Garfield would be enough to give the film some sort of acclaim, but I'm sad to say that the project received not only less than its fair share of Golden Globes love, but also zero love all across the board. Yes, believe it or not, the film was snubbed in all categories from Best Motion Picture, Drama to Best Supporting Actor and everything in-between. And fans of the franchise wasted no time in making their feelings known about the snub on social media.
The film centers around two young Portuguese priests (played by Driver and Garfield) who go to Japan in search of in search of their leader, Father Ferreira (played by Neeson), who they hear has completely renounced his Christian faith. And so the story unfolds. It's an intriguing storyline that is brought to life by an array of talented actors, so it's understandable why so many fans are confused at why the Hollywood Foreign Press Association failed to send any nominations its way.
Granted, this is fairly early in the game as far as award season nominations go. The film still has a chance of receiving some Oscars love later on down the line. But if you're one who believes that the Golden Globe nominations help predict the Academy Awards, then the 2017 list may leave you feeling uneasy.
We live in a time where there are so many wonderful projects out there who deserve some sort of recognition. But unfortunately, there just aren't enough categories or awards to do them all justice. Silence definitely deserves some sort of critical acclaim. Let's just hope that the Academy takes note of its talent and is able to give it some sort of reprieve.