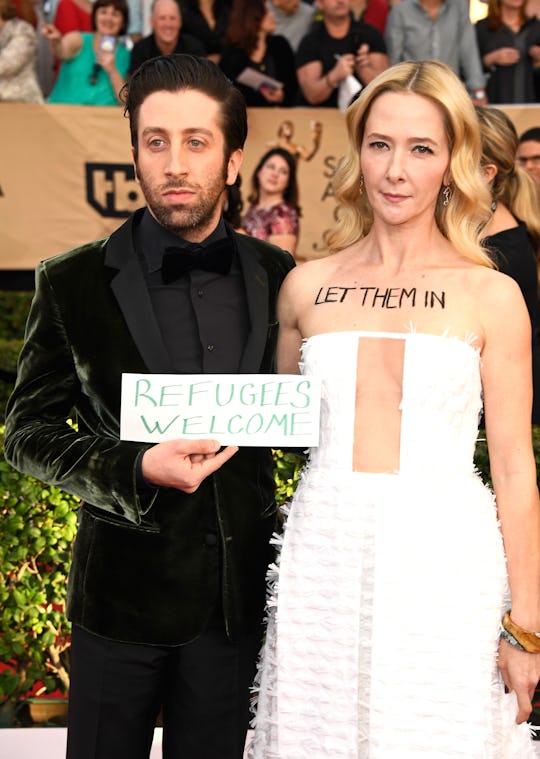 Frazer Harrison/Getty Images Entertainment/Getty Images
Simon Helberg's SAG Outfit Speaks Volumes
In the recent days, the current political administration overseeing the United States has made some choices. Those choices have, to put it briefly, have completely shut out immigrants with visas and green cards from seven targeted countries. With award season on the rise, there is no doubt that Hollywood will take the opportunity to speak their opinions about how they feel about the president's executive orders. And, at the SAG Awards, The Big Bang Theory's Simon Helberg expressed those opinions in a rather straight-to-the point red carpet look.
Helberg, who is currently appearing in Florence Foster Jenkins and The Big Bang Theory, and his wife, Jocelyn Towne were some of the first to address the immigrant ban at the SAG Awards. They would not be the first to address it — almost right off the bat, celebrities were addressing the issue in speeches and their "I am an actor..." introductions — but their statement was one of the loudest. What's interesting is that it was actually unspoken. The two made a statement on the red carpet with signs and body paint that read "Refugees welcome" and "Let them in." As you can see in the photo below, they're peacefully sending a very strong message.
Protests have erupted all around the country since the current president took office. Whether it is the Women's March that took place in D.C. (and around the country), or the pop-up protests that came from the immigrant ban at airports around the country. People want to find a way to speak out, and Helberg and Towne have chosen this medium to do so.
Their statement is just the beginnings of statements at the award show. Many celebrities have taken to the stage to speak out against the president, his administration, and the orders that are passing.