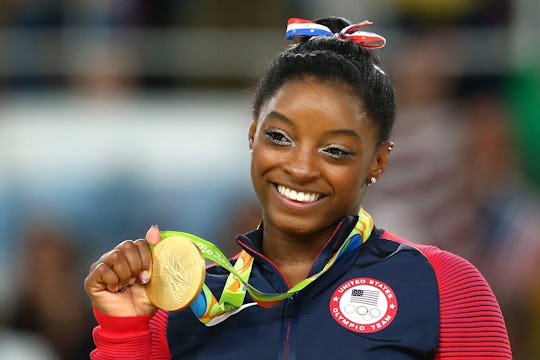 Alex Livesey/Getty Images Sport/Getty Images
Simone Biles Finally Met Zac Efron & It Was Glorious
Simone Biles might be the happiest person on the planet right now. Not only did the seemingly superhuman Olympic gymnast just pick up her fourth gold medal in Rio, but Simone Biles finally met Zac Efron. She has a cardboard cutout of the movie star in her bedroom and sometimes kisses it on the cheek. So of course, the meeting was glorious.
Biles' physical prowess is unparalleled. Given her medals, she's clearly the best gymnast in the world at the moment, but many are even calling her the best gymnast in history. She has a signature move named after her that involves a blind landing, along with a double layout, and getting higher in the air than I thought people were able to go without the assistance of some sort of engine.
But even preternaturally talented gymnasts experience celebrity crushes like the rest of us, and during an interview with NBC Nightly News taped in Biles' home, the cameras uncovered a cardboard cutout of Efron, given a place of prominence in Biles' bedroom. She even admitted that, although it was "a little weird," she would occasionally kiss the cutout on the cheek. Olympians! They are just like us!
Except they're not just like us, in that after news on Biles' crush went viral, Efron flew to Rio to meet her, and paid back all the cheek-kissing she'd given his cardboard likeness by kissing her on the cheek.
Of course, Biles exploded from joy, even tweeting, "just call me mrs.efron [sic] already."
But I wouldn't be surprised if Efron starts scrawling "Mr. Simone Biles" on all of his notebooks. That would be the appropriate reaction. After all, while he can dance up a storm, The Biles is far out of his reach, and he's already shown himself to be suitably impressed with the woman who debuted it.
The two have been chatting on social media since word of Biles' crush made the news, with Efron posting a picture of himself making a heart in front of the Final Five.
Then there was this lovely, supportive exchange:
No wonder the social media world is going crazy over the budding friendship. (And I imagine that the number of fan fiction stories about the pair is skyrocketing.)
Seeing so many dreams come true at once for such a deserving person is enough to make one want to do some fancy double layout twist moves for joy. However, if one is not Simone Biles, it's probably better to just watch those moves on TV.