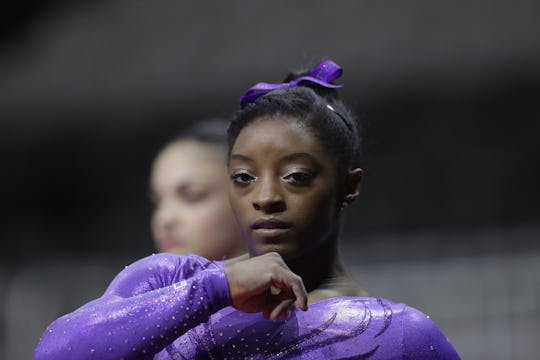 Ronald Martinez/Getty Images Sport/Getty Images
Simone Biles' Instagram & Twitter Show Just How Cool The Olympic Athlete Is
Be on the lookout for Simone Biles the upcoming week, when the 2016 Rio Summer Olympics begins to air this Friday, August 5. For those who haven't heard about the super star U.S. gymnast, they need to ASAP. Judging by Biles' winning record, she could be scoring big this year. So it is important to get to know her. Looking at Simone Biles Instagram and Twitter accounts shows that Biles is just another normal 19-year-old girl — who just happens to be on the U.S. Olympic team.
Some quick information on Biles: she owns the most world medals in U.S. history, the most world championship gold medals out of any female gymnast yet has zero Olympic medals since she was too young to compete in the last Olympics. With such an impressive record, Biles and her fans are itching to see Biles go for Olympic gold. On Sunday, August 7, Biles will make her first Olympic appearance at the gymnastics qualifiers — definitely something that all Olympic lovers will not want to miss. While it sounds like the pressure may on for Biles, one look at her Instagram and Twitter accounts show that the teenager is keeping cool under pressure and just likes, well, being a teenager.
She Loves Her Teammates
Since the announcement of the five final women competing in the U.S. Women's Gymnastics team, photos of the ladies have been all over Biles' Instagram account. With just one glance, you can tell that she really has formed a bond with teammates Aly Raisman, Laurie Hernandez, Madison Kocian, and Gabby Douglas.
Even though the women compete against each other in individual events, they also have a chance at winning gold in the Team All-Around event. It is the support for each other and the bond that they've created that will carry each girl to gold.
She Enjoys A Good Night In
Even Olympic gymnasts love a good night where they can put on a face mask and just relax. Biles' photo with teammate Aly Raisman shows that Olympic athletes are just like us...even if they have more talent in their left foot than I have in my whole entire body.
She's Not Afraid To Make Fun Of Herself
At 4 feet and 9 inches, it is safe to say that Biles is one of the shorter athletes on the U.S. Olympic team. But her pride and confidence doesn't stop her from making fun of herself every once in a while to her Twitter followers — which truly makes her so relatable.
She Even Uses The Snapchat Dog Filter
If anyone gets on your back about overusing the Snapchat dog filter, just tell them that Olympic athlete Simone Biles claims she is "obsessed" with it and that will get them off your back.
She Loves A Good Throw Back Thursday
One glance at Biles' social media accounts shows that she loves getting nostalgic and posting a #tbt just like the rest of us. How cute is this throwback picture of Biles? Doesn't she look so similar to herself now?
She And Her Olympic Teammates Give A New Meaning To The Term "Squad Goals"
Move over Taylor Swift and her squad — there is a new girl group giving a new meaning to the term "squad goals." And judging from Biles' social media accounts, you're going to get very familiar with the new squad. The U.S. Women's Gymnastics Team is going to redefine the term — just look at that tweet!
Simone Biles' social media accounts serve as proof that Olympic athletes are just like the rest of us. Keep an eye out for Simone and her squad this Friday when the 2016 Olympic Games begin.