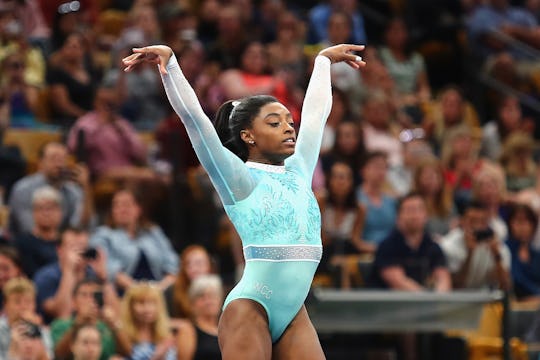 Tim Bradbury/Getty Images Sport/Getty Images
How Simone Biles' Leotard Honored Sexual Abuse Survivors
The sports world was stunned by one of the most elite athletes of our age on Sunday, but this time is wasn't just her performance getting the attention. In fact, Simone Biles leotard honored sexual abuse survivors at this weekend's competition as the champion glowed in the color teal, a symbol of sexual assault awareness.
The U.S. Gymnastics Championships was Biles' first major competition back after a long break following the Rio Olympics and one she'd planned for very specifically, according to NBC News. Biles dreamed up the idea for the soft teal leotard in January, the same month she came forward and identified herself as a victim of Larry Nassar, the longtime team doctor for USA Gymnastics, as noted by the Associate Press. "The color is for the survivors," Biles told the AP. "I stand with all of them and I think it's kind of special to unite."
Biles showed up with a stunning performance at the Championships, winning all of the individual events as well as the all-around, according to CNN. In doing so, she became just the first woman to do so since Dominique Dawes swept the events in 1994, as the AP reported. She's also now the second woman to win the national title five times, with Clara Schroth Lomday forst doing so in the 1940s and 50s, the AP added. It's almost as though Biles was charged up and invigorated by the beautifully designed and symbolic leotard.
The president of the USA Gymnastics association disappointed some people following the competition when she reportedly did not directly address the scandal and what was being done to keep the victims front and center, according to ESPN. Kerry Perry has been in the job for eight months, but this was her first public appearance, as ESPN reported. In a press conference earlier this week, according to ESPN, even Biles commented, "Hopefully [the association] is going in the right direction, but nobody can know until Kerry Perry speaks up. It's kind of hard."
It was in January, as the trial of Nassar was taking place, that Biles took to Twitter with a long post hashtagged #metoo, in which she counted herself among the survivors of Nassar's abuse. She remarked on on Twitter on her struggle to recognize her complete innocence in the event, saying "For too long I've asked myself 'Was I too naïve? Was it my fault?' I now know the answer to those questions. No. No."
She has declined to speak about specifics of the assault, according to E! News, but one week after her initial post, she celebrated the judge who sentenced Nassar to 40 to 175 years in prison, as ESPN reported. "To Judge Aquilina: THANK YOU, YOU ARE MY HERO," she wrote on Twitter, later adding, "My heart is so full."
E! News also reported on an appearance Biles made on Megyn Kelly Today, in which she spoke to the unique struggle of athletes at her level trying to contend with assault, explaining:
I think for elite athletes like some of us that have gone through this hard time, I think we're very good at compartmentalizing things. So I think we just tried to push it in the back of our heads that it didn't happen to us. But once you realized you know it happened to you it's very saddening.
Self-expression and healing have long gone hand in hand in any form of therapy, so this statement, made in such a simple way, by Biles choice of leotard feels like a very powerful and moving statement. Perhaps the young woman has found a way to take her pain and grasp it back from the jaws of defeat. In doing so, it's become just one more way that she is an inspiration to so many.