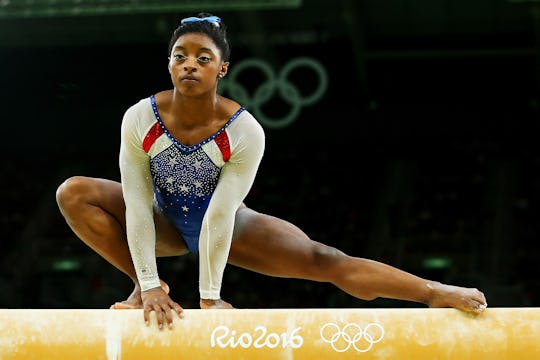 Alex Livesey/Getty Images Sport/Getty Images
Simone Biles' Reaction To ADHD Drug Leak Proves Again That She's A Class Act
A gross invasion of privacy rendered Simone Biles vulnerable and exposed. She could have reacted with anger, but she somehow embodied levelheadedness. Russian hackers released the medical records of several prominent black American female athletes Tuesday, including Biles, but Simone Biles' reaction to her ADHD drug leak proves again that she's a class act. Who's going to let the actions of a few disgruntled internet trolls detract from her hard-won Olympic victories, the product of years of sacrifice and hard work? Not Simone Biles.
The World Anti-Doping Agency called out the hacker group "Fancy Bears" for its targeting of Biles, along with fellow Olympians Elena Delle Donne, as well as Venus and Serena Williams. The hackers accused Biles of using an "illicit psycho-stimulant" while competing. However, Biles was approved to use the medication, USA Gymnastics tweeted in a statement, as it was prescribed to treat her ADHD. Still, Biles felt the need to defend herself, tweeting:
"I have ADHD and I have taken medicine for it since I was a kid. Please know, I believe in clean sport, have always followed the rules, and will continue to do so as fair play is critical to sport and is very important to me."
She also followed by saying: "Having ADHD, and taking medicine for it is nothing to be ashamed of nothing that I'm afraid to let people know." Her tweets were met with support from fans, coaches, and fellow athletes alike:
On their website, the hackers insisted that the United States "played well but not fair" in the Olympics, hinting that hacker's desired result was, ultimately, revenge. This year, Russia suffered sweeping disqualifications at the Rio Olympics due to doping—a ban that athletes, Russian citizens, and even President Valdimir Putin regarded as "unfair." This, then, was an apparent attempt to level the field. "This is just the tip of the iceberg," the hackers insisted, threatening to expose more American athletes on similar grounds in the coming week.
What is equally concerning are the demographics that these athletes share. Biles, and the Williams sisters are all black, female athletes. Considering the recent online abuse of Leslie Jones, it's hard to believe that the targeting of four black women was just coincidental. With resilience similar to Jones', Biles made sure that she was not silenced as others insisted she be. Biles continued to stand her ground, and we must stand beside her, and Jones, and the Williams sisters and Delle Donne so that they are aware of our constant support and full-on resistance to hackers and trolls. Biles deserves to be remembered for her incredible skill, not false doping accusations, and her calm, dignified reaction to having her records released only underscores that. It's like she had Michelle Obama's words on her mind: When they go low, we go high.