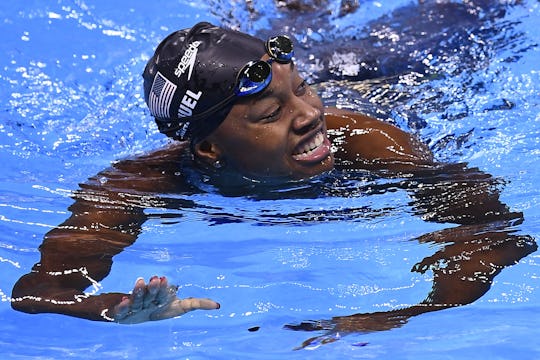 GABRIEL BOUYS/AFP/Getty Images
Simone Manuel Wins 100M Freestyle & Makes History
Michael Phelps and Ryan Lochte may have been the big names on Thursday night's Olympic swimming roster, but it was the woman who took to the pool after them who really made waves. After a fierce battle, U.S. swimmer Simone Manuel won the 100m freestyle with a time of 52.70s, securing not only the gold medal, but a place in Olympic history. With her victory on Thursday night, Manuel became the first black woman to take home a medal in an individual swimming event — and social media exploded with praise.
"History in Rio!" Bleacher Report declared simply. "'The Simones,' [Simone Manuel and [Simone Biles] were AWESOME today!" another user, Renee Cooper, tweeted excitedly, referencing U.S. gymnast Simone Biles' all-around gold, earlier in the day. One user wrote that they were "in tears" over the historic victory.
Manuel herself could hardly contain her emotions. "I'm just so blessed to have a gold medal," she said tearfully, after emerging to the pool to speak with reporters. "... I'm just so blessed."
Despite her incredible performance on Thursday night, Manuel maintains a composed air of humility. As one reporter deftly pointed out, the swimmer — who broke several National Age Group Records on her 17th birthday and whose "50 free swim was the fastest 17-18 year old time and the second-fastest American time in history," according to USA Swimming — simply describes herself as a Sugar Land, Texas native on her Twitter profile. Next to it is the Bible verse Philippians 4:13 — "I can do all things through Christ who strengthens me."
Manuel, of course, wasn't alone on the 1st place podium. Next to her, with a matching time, was Canadian swimmer Penny Oleksiak, who shared the honor of bringing gold to her home country — but for Manuel, the victory was likely much more sweet.
"This medal is not just for me," Manuel told reporters, tears streaming down her face and mixing with the droplets of pool water that still clung to her hair and cheeks. "It's for a whole bunch of people who came before me and were an inspiration to me... it's for all the people who believe they can't do it. I just want to be an inspiration to them and [show them that] you can do it."
After her incredible showing on Thursday night, it's probably safe to say that she'll be inspiring young men and women around the world for decades to come.