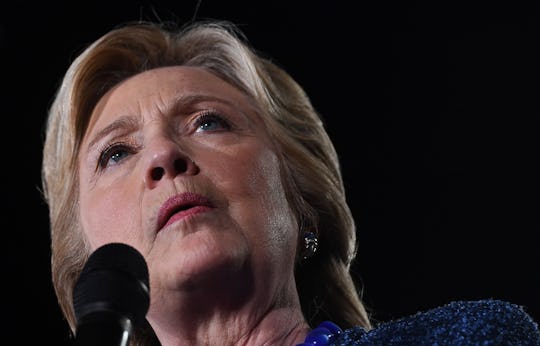 JEWEL SAMAD/AFP/Getty Images
Since When Are Mishandled Emails Worse Than Rape Allegations? It's A Scary Double Standard
While political candidates should ideally be evaluated on their merits alone, elections often devolve into smear campaigns against opponents, wherein a candidate's best quality is touted as, "At least he's not as bad as the other guy." Since Donald Trump seemed to have few plans for the presidency other than building a big, beautiful wall, he and his supporters prefer to keep the focus on former Secretary of State Hillary Clinton's email scandal. Since he opened the door, I have to ask, since when are emails worse than rape allegations? Because Clinton hasn't been proven guilty of a single crime, and if we're going to talk about unproven accusations, I must point out that the ones being leveled against Trump are far worse, yet for some reason, they're getting far less attention. Trump has denied all of the allegations against him and his campaign has not responded to Romper's request for comment regarding any of them.
After a year-long investigation that included exhaustive interviews, the FBI concluded that of the tens of thousands of emails Clinton sent and received through her private email server during her time as Secretary of State, not one was marked classified. Three reportedly contained classified information, but were improperly marked, and FBI Director James Comey stated that there was no evidence that either Clinton or her staff violated any laws, nor that they intended to do so. There was also no evidence of any attempt to conceal information. In the end, the worst thing the FBI found, according to Comey, was that Clinton and her staff were "careless," which is unfortunate, but hardly a crime.
According to ABC News, an internal State Department investigation revealed that former Secretaries of State Colin Powell and Condoleeza Rice and their staff had also used personal email accounts to disseminate "national security information classified at the Secret or Confidential levels," but Comey has yet to announce an FBI probe into their actions. And Newsweek has reported that the George W. Bush administration used a private email server owned by the Republican National Committee to send 22 million emails before and after the invasion of Iraq, and failed to store them, as required by law, and refused to comply with a subpoena by the Senate Judiciary Committee to produce said emails. The public seems untroubled by this well-documented scandal, yet recently unearthed emails sent by Huma Abedin (not to Clinton) may very well cost Clinton the election.
To recap, Clinton made a dumb mistake, similar to dumb mistakes made by her predecessors, and not nearly as brazen as actions taken by those in a higher office. She was accused of criminal activity, investigated thoroughly, and no crime was was found to have taken place. On the other hand, we have Donald Trump, who's been accused of sexual harassment or assault by over a dozen women, and counting. And although he's denied each allegation as they've come to light, his past public comments seem to confirm such behavior.
Former Miss Arizona Tasha Dixon told CBS Los Angeles that when she competed in the Miss USA beauty pageant in 2001, Trump entered a backstage area where women were changing, and some were completely nude. Five separate Miss Teen USA contestants told BuzzFeed that Trump also walked into their dressing area in 1997, when some of the girls were as young as 15 years old. One also said that Trump's daughter, Ivanka, shrugged off their concerns, saying, "Yeah, he does that." Trump has denied the recent accusations, but in 2005, he explicitly told radio host Howard Stern that he did just that, saying "I'm allowed to go in, because I'm the owner of the pageant and therefore I'm inspecting it."
Trump has also been publicly accused of kissing six women without consent, and groping seven women against their will (that's two buttocks, two breasts, and three vaginas, for those keeping score). Trump has denied these allegations as well, but in 2005, he bragged to Access Hollywood host Billy Bush that "I just start kissing them. It's like a magnet. Just kiss. I don't even wait," and that he would also "Grab them by the p*ssy," laughing that he could "do anything" to women because he was "a star."
The most damning accusation leveled against Trump thus far has been mostly ignored by the media. A anonymous woman using the pseudonym Jane Doe has filed a lawsuit claiming that on four occasions in 1994, when she was 13 years old, Trump raped her at parties hosted by billionaire financier and registered Level 3 sex offender Jeffrey Epstein. The suit claims that Doe was "enticed by promises of money and a modeling career to attend a series of parties" with other minors, during which Trump committed "rape, sexual misconduct, criminal sexual acts, sexual abuse, forcible touching, assault, battery, intentional and reckless infliction of emotional distress, duress, false imprisonment, and threats of death and/or serious bodily injury."
It was on the fourth occasion that Doe claims Trump tied her to a bed and slapped her as he raped her, after which Epstein raped her both anally and vaginally, while punching her, according to the lawsuit. Epstein's representative has not responded to Romper's request for comment. Doe further claims that Trump and Epstein threatened both her and her family, should she ever reveal what happened, and that Trump threatened to make her "disappear like Maria," a 12-year-old who had been raped at a previous party, and whom Doe hadn't seen since. Doe is represented by attorney Lisa Bloom, a legal analyst for NBC and daughter of Gloria Allred, an attorney who represents three other women who have accused Trump of sexual assault. Doe was scheduled to reveal her identity at a press conference on Wednesday, but according to the Guardian, she cancelled at the last minute because, according to Bloom, she'd received death threats. A hearing in federal court is scheduled for Dec. 16.
If talking politics means bringing up unproven allegations against the candidates, so be it. But let's be fair. If we give merit to the claims that Clinton illegally deleted emails, the same weight must be given to scores of women who's accused Trump of predatory behavior.