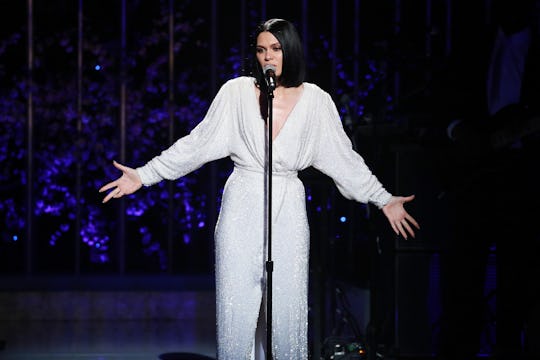 Leon Bennett/Getty Images Entertainment/Getty Images
Jessie J Reveals Her Struggles With Infertility During London Concert Appearance
Sometimes celebrities keep quiet about their personal information but other times, a star will come forward with ultra-deep details about their journey that just makes your heart drop. It was definitely the latter when singer Jessie J revealed she's unable to have kids during a concert in London. Performing Tuesday night at the famed Royal Albert Hall, the 30-year-old Brit broke into an unexpected, and emotional, speech about her dashed dreams of becoming a parent, People reported.
"'I was told four years ago that I can't ever have children," the singer told the crowd, as reported in detail by the UK's Metro UK newspaper. "I don't tell you guys for sympathy because I'm one of millions of women and men that have gone through this and will go through this." The revelation came before her song "Four Letter Word," which includes lyrics about wanting to become a mother.
"It can't be something that defines us, but I wanted to write this song for myself in my moment of pain and sadness but also to give myself joy, to give other people something that they can listen to in that moment when it gets really hard," the singer added, per Metro UK.
"So if you've ever experienced anything with this or have seen somebody else go through it or have lost a child, then please know you're not alone in your pain and I'm thinking of you when I sing this song."
This was such a brave act, and I'm in awe of this woman. In sharing her plight, there will be countless others who are in the same difficult situation, but haven't shared about it and feel all alone, that now feel a bit less alone.
In fact, a 2010 article from Self that was republished on the CBS News website noted that 61 percent of infertility patients hide their difficulties trying to get pregnant from those closest to them. That's a lot of people going through a lot of pain at a time in their lives when they probably need the most support. And while Jessie J is a solo artist, just know she wasn't entirely alone as she gave her moving speech.
New boyfriend Channing Tatum was there in support. "This woman just poured her heart out on stage at the Royal Albert Hall," he captioned an Instagram shot of Jessie J on stage. "Whoever was there got to witness something special. Wow." (The Metro UK also noted that Tatum's 5-year-old daughter with ex Jenna Dewan, Everly, was in the audience as well.)
The singer's experience has clearly been something she's working through lately. On World Mental Health Day, Oct. 10, Jessie shared on Instagram: "... It's unrealistic to feel happiness and joy and love 24 hours a day. Even the most positive of people will be challenged in life. In those moments of darkness we have a choice. To allow the darkness to define us and become that very darkness ... OR we face it head on ... #worldmentalhealthday."
Prior to her diagnosis, the singer shared with Marie Claire magazine in 2013 that kids were hopefully in her future, as Marie Claire UK reported. "When I turned 25, something changed in me. I see children in my future 100 percent," she explained at the time.
As per Metro UK, however, Jessie J told the crowd that she hasn't given up hope. I'm so glad to hear that and you can already tell she's a fighter. There are many paths to parenthood, after all.