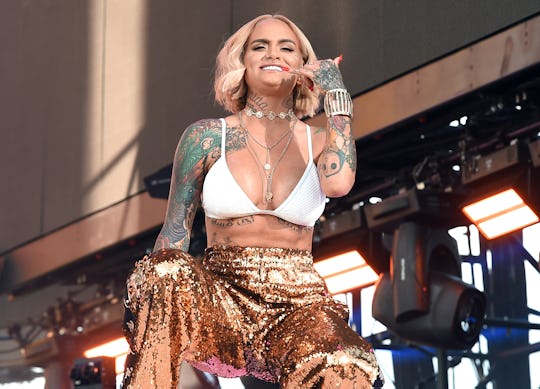 Kevin Winter/Getty Images Entertainment/Getty Images
Singer Kehlani Opens Up About The Disappointing Reactions To Her Pregnancy
Typically, when a grown woman reveals that she's pregnant, she's hoping for some sort of positive response. A simple, "OMG, congrats!" works well. But sometimes, there are people who don't seem to get it. Instead, they might follow up an announcement with prying questions or unsolicited opinions. (Which, just why?) Celebrities certainly aren't immune to these out-of-place responses, either. Because recently, singer Kehlani opened up about the disappointing reactions to her pregnancy — and naysayers should take note.
Kehlani, 23, didn't receive backlash for getting pregnant at a young age. Or even because a child was conceived "out of wedlock." Nope. As E! Online reported, the "Honey" singer has mostly fielded negative comments in relation to her sexuality. "I've gotten everything from 'I thought she was a lesbian' to 'she was using queerness to promote her career, then went and betrayed us with a man' to 'her baby father is just a sperm donor'," she told Nylon in a recent interview. Um, what?! Let's back up for a moment, here.
In case you were wondering (and as Kehlani reiterated), she has never identified as a lesbian. Nor has she labeled herself "the queer icon of the century." She has, however, used the terms pansexual and queer to describe her sexuality in the past. "I have always said, and will always say, there are people out there in this community fighting for equality in realer ways than making songs about it and performing at events like I am, and those are the 'queeroes'," she told Nylon. "Those are the ones who deserve to be awarded and constantly highlighted."
Editor's Note: The Instagram post has since been deleted.
In October, Kehlani revealed she was four months pregnant with a baby girl. The singer shared a series of blissful bump photos and a lengthy message to her Instagram followers. "I've always been very open with you all about my personal adventures & accomplishments… this was the HARDEST to hide," Kehlani wrote, according to People. "If you know me, you know i've dreamt about motherhood since i was very young. when asked what my goals are, it's always the idea of a big healthy happy family & whatever comes along is a plus." She continued:
I am so honored to be given this gift by spirit, creator, and an amazing partner whom i trust with my body and life after a very traumatic experience that had me afraid of interacting with men as a whole for what i was sure would be forever (i'll tell that story when it's time).
Editor's Note: The Instagram post has since been deleted.
Although Kehlani didn't specifically name the father of her baby via Instagram, she did include him in her announcement. "My partner is my best friend and quite frankly the only man on earth I trust," Kehlani wrote, according to Newsweek. Honestly, though? She is under no obligation whatsoever to ever identify the father of her baby.
Editor's Note: The Instagram post has since been deleted.
As a mom of three — and soon to be four in a few short weeks — I can confidently say the only acceptable response to a grown-*ss woman announcing her pregnancy is: "Congratulations!" Not, "Was it planned?" or, "But you're so young," or in Kehlani's case, "But I thought you were a lesbian?" or any other commentary about the circumstances surrounding the pregnancy. Simply wish the expecting mom well and keep your prying questions and insulting commentary to yourself, got it? Good. Because it's probably none of your business, anyway.