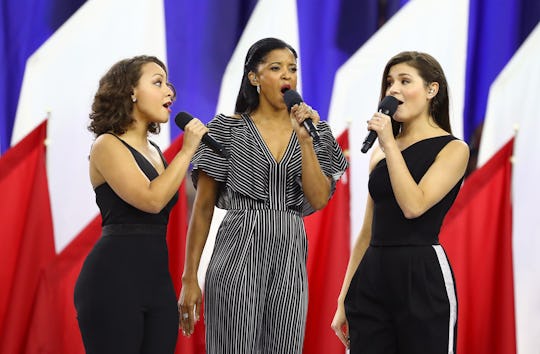 Al Bello/Getty Images Sport/Getty Images
The "And Sisterhood" Super Bowl Tweets Are Iconic
If Lin-Manuel Miranda's lyrics from Hamilton reminding us all that "history has its eyes on you" ring true, then hopefully history will have its eyes on this: Phillipa Soo, Renée Elise Goldsberry, and Jasmine Cephas — aka the iconic Schuyler sisters of Hamilton — added the words "and sisterhood" while performing "America The Beautiful," prompting enough "and sisterhood" memes from Super Bowl 51 to span from sea to shining sea. Not only has Twitter exploded with awesome tweets to celebrate the historical moment, but Lin-Manuel Miranda has straight up changed his Twitter bio to "and sisterhood" (and I'm not going to lie, I might just follow suit).
If you're not hip to Hamilton or the legacy of Soo, Goldsberry, and Cephas's performances in it, the trio plays the Schuyler sisters, all of whom play pivotal roles in the life of Alexander Hamilton. Despite the minimized role of women in the era, creator Lin-Manuel Miranda represented these characters as fiercely feminist, particularly in the song "The Schuyler Sisters," in which the sisters — Angelica, Eliiiiza, and PEGGY — are out "looking for a mind at work," with other, more specific objectives: "And when I meet Thomas Jefferson, I'mma compel him to include women in the sequel — work!"
So truly, there is no time more fitting for an update to a song that prizes "brotherhood" than through the mouths of these ladies, all three of whom have championed women's rights and used their status as performers to promote equality and justice.
Here are some of the tweets that are already making ~waves~ in the sisterhood-sphere:
From Hamilton Himself
‌
Our musical theater god has spoken, y'all.
The Meme That Out-Meme'd Itself
We've been meme-ing "and Peggy" for the better part of two years now, so it was high time for a new version.
Too Good, Too Pure For This World
Who is this man, and more importantly, can we be best friends?
This Stunning Fan Art
‌
Proving that women really do Get Stuff Done, this lovely artistic rendition of the moment was out within minutes of the song's update.
*Cues J.T.'s "Cry Me A River*
Just kidding, too busy jamming out to this song update from now on.
Priorities, Priorities
What is a sports again?
Get The Super Bowl Rings Ready
Fastest Super Bowl win ever!!!
Don't Let The Patriarchy Hit You On Your Way Out!
The sass is too glorious for my eyes.
If you're still thirsting for more Schuyler sister fierceness, look no further than this performance of quotes about feminism.
In the words of our heroes — WORK!