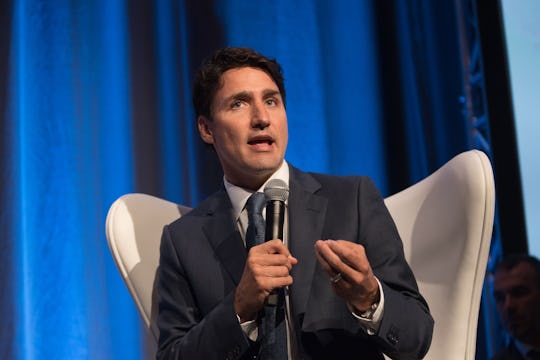 ALICE CHICHE/AFP/Getty Images
Site To Apply For Canadian Citizenship Is Down, Which Says Something About This Election
As election night progresses, progressive Americans are beginning to fear the worst. To top it all off, the site to apply for Canadian citizenship is down, which says something about this election, doesn't it? As is the tune of many Americans who wind up unhappy with the results of any U.S. election, the number of U.S. citizens who threaten to move to Canada should the race not go the way they're hoping has been exponentially high this year. As many news outlets, including The New York Times, reported Trump winning many of the swing states that are considered battlegrounds this year, the possibility of a Trump presidency looms over the heads of Americans, promising a truly scary and drastic change from the last eight years of Obama that America has enjoyed.
With news outlets like providing readers with ways they can move to Canada should the election fall on the opposite side of their hopes, it's no wonder that so many Americans think of Canada as their closest and easiest escape route. The official website for 'Citizenship and Immigration Canada' crashed late in the evening as Trump's votes continued to roll in according to The Independent, presumably because too many Americans were trying to access the website amidst the Electoral College showdown. With election anxiety hitting its peak this evening as swing states and their votes continue to trickle in, it's no wonder that Canada's experiencing a rush of interest in applying for citizenship.
Rather than the usual website image that greets visitors upon arrival, ITV reported repeated crashing, buffering, and internal server errors on the Canadian website. Although Americans have been joking from the beginning of the election that they would move to Canada should Trump take the Oval Office, with the results coming in and the race looking closer than anyone could've imagined, The Telegraph reported that people in the U.S. are increasingly searching for the word "emigrate" over the last few hours. Social media has had no short of appropriate reactions to the evening's results, or their desire to move to Canada should the worst happen.
For everyone threatening to move to Canada over the election results, there are just as many people taking to social media to declare their feelings on the matter. Rather than running to Canada, the following tweeters are prepared to stay strong regardless of the outcome, and fight for the rights of their fellow Americans who may be in danger under a Trump presidency.
One thing is certain, regardless of who wins this election, Canada has gotten plenty of attention this evening.