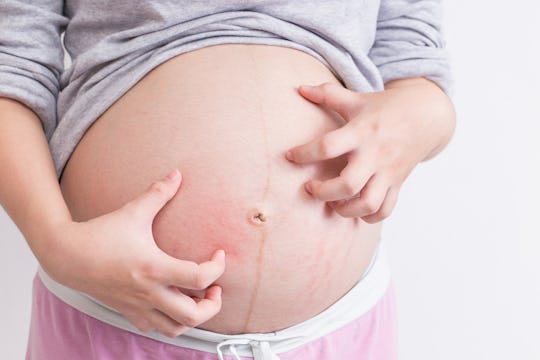 chajamp/Fotolia
You've Prepared For Stretch Marks, But Some Pregnancy Skin Conditions Are Serious
We've all heard of "pregnancy glow." If you're one of the extremely lucky few, your skin might develop this beautiful (and elusive) brightness and luster you hear so much about. If you're not so fortunate, you're also not alone. Most pregnant women experience at least one of these less glamorous side effects: acne, spider veins, stretch marks, melasma, and rashes, to name a few of the oh-so-fun possibilities. However, there are two things that should not happen to your skin during pregnancy, and experiencing either merit a trip to your OB-GYN, and ASAP.
Expectant mothers are tough cookies. Yes, pregnancy is beautiful, but it comes with a lot of not-so-beautiful symptoms. We're familiar with the usual suspects, like morning sickness, extreme fatigue, and insomnia. However, less women talk about the constipation, the body aches, the gas, the hemorrhoids, and the constant need to pee. Long story short: expectant mothers are absolute champs.
It's necessary to be a tough cookie to survive 40 weeks of this, but it's also important to recognize which symptoms are annoyances and which ones are signs of something more serious. If you find yourself experiencing the two skin symptoms below, call your doctor and let them know immediately. Grinning and bearing it is the typical M.O. for pregnancy, but these are two symptoms you shouldn't be putting up with.