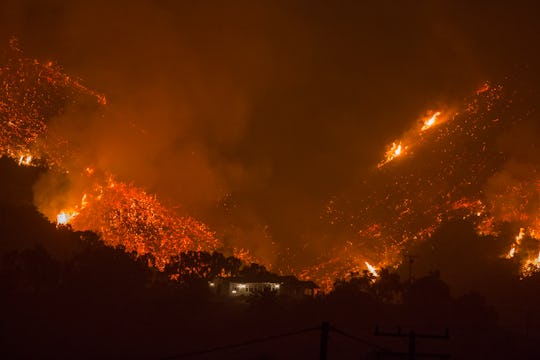 David McNew/Getty Images News/Getty Images
Skirball Fire Updates Show It's 85 Percent Contained
Last week, you probably saw the startling images and video clips plastered all over social media: Seemingly endless walls of flames surrounded by clouds of smoke. The terrifying Skirball Fire looked like a scene straight from some apocalyptic movie. Except for hundreds of thousands of people in Southern California, this was real life. Following nearly a week of intense efforts by hundreds of fire tanks from in and out of the state, Skirball Fire updates show it is 85 percent contained at this point.
Let's take a moment to put the magnitude of this fire into perspective: As CNN reported, firefighters in Los Angeles receive a daily brush burning index report, which indicates fire danger. An extreme number would be 165 or higher, according to the publication. But Thursday's number? It was at a staggering 296 — the highest it's ever been, according to the Los Angeles Fire chief. The conditions were "perfect."
Needless to say, when the blaze starting roaring last Wednesday morning, area commuters on Interstate 405 beheld a pretty scary sight. The 475-acre Skirball Fire — located near the tony Bel-Air area of Los Angeles — shut down a 9-mile stretch of the busy freeway for hours, according to The Los Angeles Times. Many of the drivers took to social media to offer the world what they encountered on their morning commute. "Today was [the] scariest morning commute of my life," one Twitter user wrote, alongside a chilling shot of a mountain and part of the highway ablaze. (Holy smokes! If I didn't know better, I'd say I was looking at a photo of an erupting volcano.)
Another Twitter user posted a video of the enormous fire. "This is my drive to work," she wrote. "Lord be still'. Praying for ppl up in those mountains, LA County and myself this morning. FYI anyone on the #405 turn around." Seriously, press play and take a look at this few-second clip. I mean, can you imagine?!
On Wednesday, the day the blaze started, 6,000 people were affected by evacuations in some of the area's most affluent neighborhoods near the Skirball Fire. By Saturday, Dec. 9, the LAPD shared on Twitter that the Skirball Fire was 50 percent contained. "We've witnessed first-hand the amazing work by firefighters & many other first-responders," the Tweet read. "Although the incidents are not over, join us in saying THANK YOU!"
An update on Sunday, Dec. 10 by Los Angeles Fire Department officials announced the Skirball Fire in the Bel Air area was 75 percent contained, reports ABC 7. The acreage of the fire was also updated from 475 to 421 acres, according to fire officials. So far, a total of six homes have been destroyed in the blaze, along with damage to 12 others. Although some who were evacuated were allowed to return home by Thursday night, some evacuation orders still remained in place.
On Monday, the LAFD revealed the Skirball Fire was 85 percent contained, according to the department's website. At this point, the mandatory evacuations were all lifted for affected communities and intersections were fully re-opened. On Tuesday morning, the Los Angeles Daily News reported the fire remained at 85 percent containment.
It seems like the worst of the damage from the Skirball Fire is over. However, other fires in California continue to burn. The Thomas Fire, for example, has officially earned the title of the fifth-largest wildfire in California history, according to the Los Angles Times. Located north of Santa Paula in Ventura County, the Thomas Fire is only at 20 percent containment and has affected 234,200 acres, according to NBC San Diego.
If you'd like to help those affected, there are a number of GoFundMe accounts that will help families who have lost their homes, and those who have been injured.
Check out Romper's new video series, Romper's Doula Diaries:
Watch full episodes of Romper's Doula Diaries on Facebook Watch.