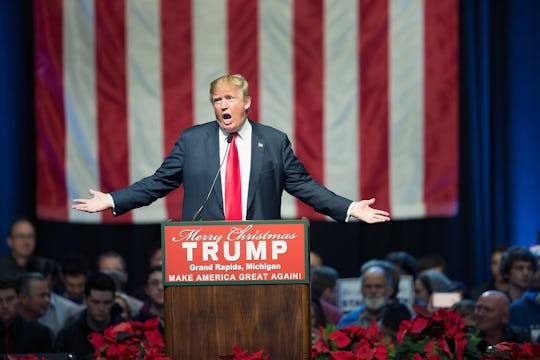 Scott Olson/Getty
Sky Writers Pen Anti-Trump Messages During Rose Parade, Because Sometimes Tweeting Your Anger Just Isn't Enough
Points for creativity? As the floats made their way down the parade route at the Rose Parade in Pasadena on Friday, multiple sky writers from aerial advertising company Air Sign wrote anti-Trump messages in the sky above the crowds, according to The Hollywood Reporter. The messages didn't hold back either: they included "America is great, Trump is disgusting," "Trump is a fascist dictator," and "Anybody but Trump." One message also specifically targeted voters in Iowa, where Democratic and Republican caucuses are set to begin February 1, with the words "Iowans Dump Trump" written out in the sky.
Although the messages never made it onto the televised broadcast of the parade according to Buzzfeed (the Rose Parade is shown on over 12 networks in the United States, as well as 10 others abroad), they did get quite a bit of attention on Twitter, where spectators posted plenty of photos and videos. And there was one obvious question on everyone's mind: whose idea were they?
According to Alabama Fox News affiliate WBRC, Stan Pate, a millionaire real estate developer from Tuscaloosa, AL was behind the stunt. Trump talks "hate, hate, hate," Pate told reporters, adding:
"Hate is not a policy. These other people that are running for president have the country's best interest in mind. Trump only has his [own] interest in mind."
Well that's one way to get your point across!
Image: Scott Olson/Getty