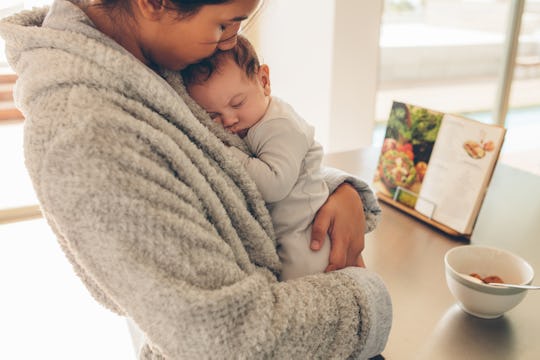 Fotolia/Jacob Lund
These New Inventions Can Help You Sleep Better, Because Being A Mom Is Already Exhausting Enough
As a mom, a well-rested evening can become a far off dream, eluding even those with the best sleep habits. Between late night feedings, anxiety over your child's health and sleeping habits, or even a, (ahem) loudly snoring partner, blissfully drifting off to lullaby land is, in a word: difficult. If you are like most of us struggling to establish a healthy sleep schedule, we have good news: technology is on the way to help you sleep better at night and wake up actually well rested. This year's Consumer Electronics Show (CES) in Las Vegas unveiled innovations in the world of sleep, showcasing everything from smart beds to pregnancy monitoring bands promising that can help desperate parents solve one of motherhood's biggest challenges: a sound night of sleep.
As an insomniac myself, I've tried everything from aromatherapy to guided medication. At this point, nothing really helps me fall asleep more quickly. And once I added a child into the mix, all hopes of sleep went out the window. Life with a new baby is a blur, resulting mostly from the literal lack of sleep you obtain during that phase of life. And now I feel like I can't rely on sleep aids; what if my kid is screaming at 3 a.m. and I'm too groggy to solve the problem?
This is a parent wide struggle. Gallup reports that the average individual spends up seven hours a night sleeping, while new parents rest substantially less according to Health Daily. Living in a state of sleep deprivation can impact your memory, reasoning, a study in Neurobiology of Learning and Memory found, as well as ultimately causing a lasting deficits on your physical health and wellbeing, as Healthy Sleep explains. So what do you do when you haven't slept a full night in weeks and your partner starts to snore? Put down the pillow, there is hope in sight.
The Sleep Tech category launched at CES in 2014 and has since grown to feature dozens of products and brands focusing specifically on the science of sleep. Romper has put together a list of the most innovative pieces of sleep technology from this year's show, walking you through all the tools you need for rest during pregnancy and beyond. Disclaimer: most of these products do come at a pretty penny — fingers crossed more widely accessible sleep tech is on the horizon.