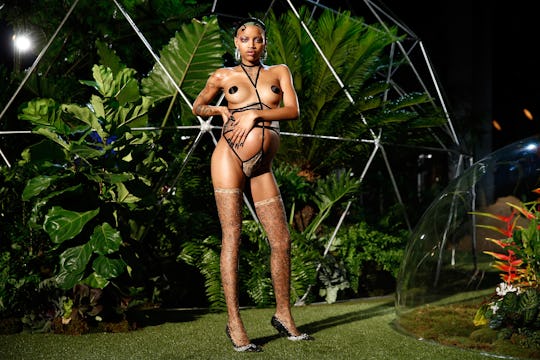 Brian Ach/Getty Images Entertainment/Getty Images
This Model Confirmed She Was In Labor During Rihanna's NYFW Show With An Empowering Message
Last week, models Slick Woods and Janina Thompson made headlines for walking in Rihanna's Savage x Fenty show at New York Fashion Week while pregnant. But what fans didn't know is that Woods was actually in labor (!!!!) while strutting the runway. And Slick Woods' Instagram message after being in labor at the NYFW show is an empowering celebration of women's strength.
Over the weekend, Woods, 22, posted two (very fierce) photos of herself on the Savage x Fenty runway, where she wore a barely-there one piece, pasties, thigh-high stockings, and high heels. Alongside the photo, she confirmed reports that she was in fact in labor during the show. "A lewk, 14 hours of labor, and A king is born," Woods captioned her post. "This is the face of a WOMAN IN LABOR, we hold sh*t down most of us don't even know how much we're going through, I'm here to say I CAN DO WHATEVER THE F—K I WANT WHENEVER THE F—K I WANT AND SO CAN YOU."
The Savage x Fenty show closed out NYFW on Wednesday night, and by Friday morning, TMZ had reported that Woods had gone into labor "just as [she] walked backstage." As if that rumor wasn't impressive enough, the fact that Woods was already in labor during the show is nothing short of extraordinary.
So, how did Woods manage to strut a grass-covered runway while wearing heels, being surrounded by flashing lights, and being in labor with her baby?
At the end of her Instagram post, she revealed that she had a paramedic looking out for her the whole time. "Thank you @qualityresusqueen and the Fenty family for taking such good care of us," Woods wrote. Based on @qualityresusqueen's (aka Reina) Instagram, she is a paramedic with ParaDocs Worldwide, a company that provides medical professionals for events like fashion shows, concerts, etc.
Reina shared a photo of herself and Woods backstage at the fashion show, making it clear that she was alongside the model monitoring her labor. "@slickwoods, it was a pleasure meeting you and working with you! I am so happy that I was apart of this beautiful life changing experience," Reina captioned the shot. "Sorry I kept checking up on you and I didn't mean to be so 'annoying' lol! Your [sic] a fabulous, hard working, sexy mama! Till we meet again!" Woods commented on Reina's post, telling her, "You were the absolute best thank youu."
Woods has yet to share a photo of her newborn son, but fans already know a couple of things about the baby boy. In a July interview with Elle UK, Woods revealed she planned to name her son Saphir. Saphir's father, model Adonis Bosso, 28 confirmed that they indeed went with the adorable name in an Instagram post this weekend. Alongside a photo of young boy, who appears to be Bosso as a child, he wrote:
It's and honor and privilege to have been able to experience with my own eyes the blessing that is life. The beautiful labor of a woman and the first breath of a young king. The young boy in me strives to reach the stars like never before. The man in me is filled with love that submerges my body. A King is born and has awakened in me a new form of love. Welcome to the world Saphir.
Shortly before sharing that post, Bosso posted a photo of himself simply captioned, "Fatherhood," implying that the baby had safely arrived.
Slick Woods walking the runway while in labor proves that women really can do anything. A huge congrats to the fashion world's newest mom and dad!