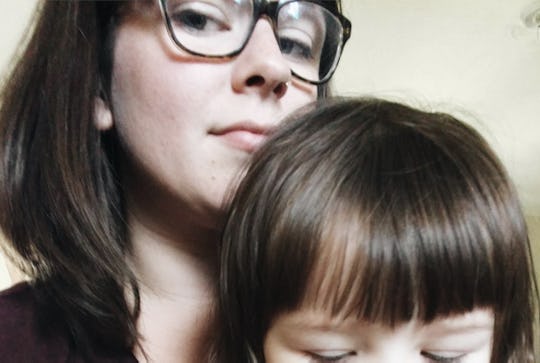 Courtesy of Mary Sauer
Slow Parenting Is A Movement, & This Is What Happened When I Pumped The Breaks On Life With The Kids
On a day-to-day basis, I find myself on the brink of a mommy meltdown at right about 4 p.m.. Let me set the scene for you: I'm trying to make a healthy dinner, usually one I've prepared from scratch because we're on a tight grocery budget; I have two toddlers underfoot, a 1 year old who spends dinner prep time sobbing and clutching my pant legs, and a 3 year old who's typically finding new and creative ways to injure herself or vandalize our home; toys line the home from one end of the house to the other, and in between sobs, my youngest is emptying cabinets and drawers because that is what she does. I try my hardest to stay calm, but with a never ending to-do list and the normal everyday chaos of parenting littles ones, I am at my wit's end by dinner time.
But I find myself impatient for much of the day, not just dinner time. I rush my children out the door in the mornings for errands and playdates, most of which are completely unnecessary fillers in our days. I love being a mom. I love playtime. I love reading to my girls before their naps. The extra stuff added into our schedule alongside the responsibilities of taking care of my family and our home, however, has left me feeling particularly stressed out these days.  
On one particularly difficult evening recently, I found myself wondering if there was any possible way to cut some of the stress out of my days; if there was a way to become a more present and happier mom. If all of the extras in our schedule were the reason I was feeling a little strung out, would slowing down be the answer to being a happier, less-stressed mom? After reading a feature in the Boston Globe about the benefits of slow parenting, I was sold.
In theory, it sounded like the perfect way to parent. Slow parenting is exactly what the name implies: slowing down and savoring the moment and enjoying quality over quantity without rushing from point A to point B. What could be easier than that? I committed to see how well I could practice slow parenting for at least a week.
The Experiment
The rules were simple: I'd spend the week at home with my children practicing the main commandments of the slow-parenting model. We'd stop, smell the roses, and have as much fun together as possible. Outside of my two workdays, which my daughters spend with their grandma, and our routine errands, we'd keep life at home as simple and slow as possible. Easy, right?
Slow Parenting Isn't Lazy Parenting
From the start, I was looking forward to this new way of parenting. We were just back to our normal routine after a short family vacation, and I think we were all worn out. Normally, by Wednesday, I'd be feeling antsy at home, looking for places to go, and random errands to run to pass the time. Instead, we stayed in all day. We spend most of the morning in our pajamas, which doesn't mean that slow parenting is synonymous with lazy parenting or that it advocates for sloppy living. Staying in and moving a little slower gave us an excuse to really slow down and read books on the couch after breakfast instead of rushing to get everyone dressed and out the door.
Adhering to the slow parenting rules meant our morning together was long, and not necessarily in bad way. Normally, we tear out of the house and leave a mess in our wake. We return in a frenzy, and I normally feel rushed to feed both girls lunch so I can put them down for naps before their emotions start to get the better of them. Our haphazard routine means I spent a lot of time ignoring the morning mess, but on this particular day, I had more than enough time to keep up with the housework and spend time with each girl one on one.
I worked through naptime, and when the girls woke up, we went for a walk and played outside for awhile. When it came time to make dinner, things were still chaotic. I think I had expected the girls to be OK playing independently while I cooked, since we spent so much time together earlier in the day, but Hazel, my 1 year old, was still as clingy as ever and I still felt frazzled by the time dinner was on the table. It was disappointing, but I hoped we'd continue making progress.
Can Working Women Make Slow Parenting Work?
There's only so much slowing down you can do as a working mom … or at least that's what I learned on my second day of slow parenting. I spent the morning with the girls, sipping some tea while they climbed up and down from my lap and chased each other around the house. But Thursday is my work day, so our idealistic, quiet morning was cut short so I could get ready for my day.
By 8 a.m., I had to kick it into gear. The girls needed to be dressed and have their hair done and I needed to do my hair and makeup, eat breakfast, clean up the house, start a load of laundry, and pack my lunch. My understanding of slow parenting is that it doesn't necessarily advocate for days with empty schedules, but it does advocate against rushing, overfilled schedules, stressed-out parents, and overstimulated kids. While I tried my hardest to move slowly through the next hour, focusing on each task at hand before flying to the next, I felt pressed for time and defaulted back to ushering the girls along, sighing while I flittered from task to task.
I spent the rest of the day away from my girls, focusing on being productive during this time, knowing that if I accomplished a lot of work I'd be free to spend more time with them the next day while I was at home. In the evening, my husband and I met for a class we're taking to become foster parents. I really hate spending such a long day away from my girls, but these classes are only part of our routine for a short time, and the girls have fun with their grandma.
I Must Be Doing It Wrong
When I woke up on Friday morning, I was excited to have entire day with my girls. We needed to grocery shop, but that was the only thing on our schedule for the day. I still found myself caught up in the chaos of the morning, rushing through lunch, and feeling stressed out by the dinner-time shuffle. Our house was messy and several items on my to do list were left undone.
By the end of the day, I found myself wondering what the key to really slowing down was. If cutting everything unnecessary out of our days wasn't helping, what would do the trick? I spent a few minutes browsing the website for Slow Family Living and found that there's no perfect answer to finding your rhythm as a family. You have to unearth what works best for you.
This really had me thinking: I'd been so focused on doing less, not remembering that so much of my morning and afternoon chaos is centered around necessary tasks: getting two toddlers ready for the day, making breakfast, cleaning up the house, getting myself ready, and making it to grocery store all while potty training and trying to make it back to the house before 11 a.m. when my younger daughter is ready for her nap. So, maybe, in my situation, they key to slowing down wasn't always about doing less, but finding better routines for the hardest parts of our days?
Focusing On Family For The Weekend
Going into the weekend, I had a new strategy. I wouldn't focus so much on paring down our schedule, but I would start to look for creative ways to tighten our routines during the hardest parts of the day — mornings and late afternoons — in order to free up more time to enjoy together as a family. Over the weekend, I put my new plan into motion and learned a few things.
I saw how important it is to begin the day with a clean house, picking everything up and emptying the sink before bed was vital to slowing down our mornings a little. I also noticed that, even though I wasn't spending large chunks of time on my smartphone, I do check it frequently. I put my phone away in my bedroom while the girls were awake and I felt much more in tune with them and way less stressed out. And lastly, I realized that slow parenting might require me to sacrifice some of the idealistic notions I have about being a work-at-home mom. For instance: keeping the house calm while making chicken pot pie from scratch is not a real possibility.
Between waking up to a clean house and cutting out unnecessary distractions, my husband and I were able to make breakfast and get everyone ready for the day without any chaos, We left our house by 8 a.m. both days, for our second foster parenting class on Saturday and then for church on Sunday morning. Our evenings, we planned to keep free. We spent time cleaning up after dinner, went on a family walk, played tag, colored, played with building blocks, and we went on an impromptu family ice cream run on Saturday night.
It was really wonderful to devote the majority of a weekend to being together and ignoring distractions. I had worked really hard on Thursday and Friday night after the girls went to bed to get caught up, and this allowed me to take the entire weekend away from work. Doing so was perhaps the most valuable part of our slow weekend because I was able to be more present and, quite honestly, more fun. I didn't obsess over when I'd find a few hours here and there to get my work done.
Slow Parenting Isn't Easy
After a pretty great weekend, I went into the new week believing slow parenting was a piece of cake. I really thought it'd be easy from here on out since our weekend had gone so smoothly. In reality, Monday and Tuesday were the hardest days of our experiment. I was tired of being at home, and tired of how long the mornings felt when I could fill them with playdates or IKEA trips.
On Monday, I realized how difficult it can be to fill day after day at home -- especially when you have young children. We had dance party after dance party, I cleaned the house from top to bottom, we colored, built with blocks, baked pumpkin bread, and read through the same stack of books twice — all before 11 a.m. It made me realize that slow parenting forces you and your children to truly experience boredom. The amazing thing, though, was that while I was laying on the couch reading and kind of crawling out of my skin with boredom, my girls' imaginations were kicking into high gear. Just the right amount of boredom inspired them to create a new game. Decked out in dress-up clothes from head to toe, they did laps with their toy shopping carts around the dining room table, giggling and squealing the entire time. Afterwards, they wandered off the their bedroom, and I took advantage of the quiet, throwing dinner together as quickly as possible.
And Tuesday, honestly, looked almost exactly the same. Maybe we were finding our rhythm? I was still feeling bored out my mind, but my girls seemed to be enjoying their days just as much or more than they had when were running around. Before I could even get them out of their pajamas, they were pulling out dress up clothes and chasing the dog around our house.
Did Slow Parenting Offer Us The Perfect "Speed"?
I like the idea of slow parenting, but it wasn't as peaceful as I envisioned it'd be. Spending more time at home and cutting out unnecessary things from our schedule required me to engage with my girls more, which is great, even if it's sometimes more difficult on me. It meant I had to find ways to keep everyone, including myself, entertained. And, as small as this sounds, following the slow-parenting principles actually created more housework for me. Spending most of our days at home meant more toys strung throughout the house, more meals cooked at home, more messes to clean up, and more fights to break up over who gets what toy.
On the flip side, slowing down gave me an opportunity to really watch my children and enjoy seeing them play together. I was able to observe them as they are just now learning to communicate with each other. There was more time for cuddling together with books on the couch, and more time for dance parties and tag. Slowing down to really experience and enjoy motherhood, instead of filling our time with distractions, may not be easy, but it is good. It is really, really good.