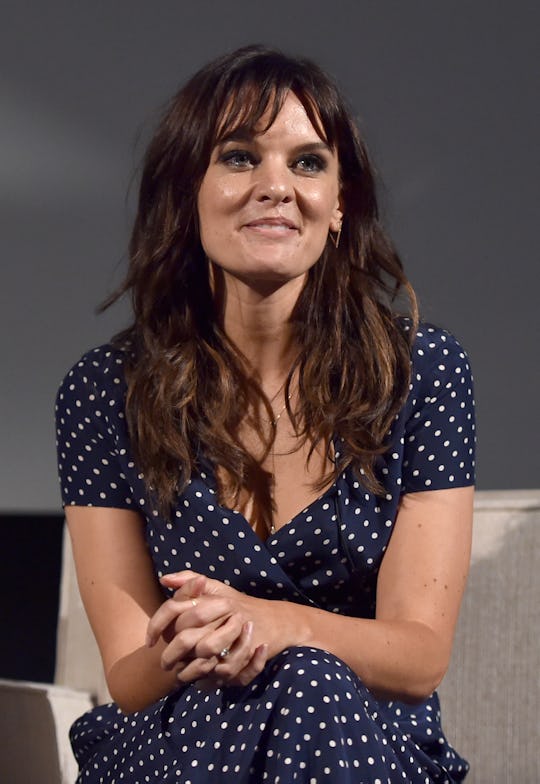 Alberto E. Rodriguez/Getty Images Entertainment/Getty Images
'SMILF' Gets Nominated For The 2018 Golden Globes & Fans Are Thrilled
The 2018 Golden Globes nominations have come in this morning and people are already upset but the snubs, but are also celebrating the surprise nominations. Showtime's new comedy series, SMILF, got nominated for the 2018 Golden Globes and fans couldn't be more thrilled.
The series just began a few weeks ago, and was being promoted as the perfect single mom comedy, made for fans of Shameless. Whether or not you agree with that tagline, the show has amassed a great numbers of fans and it seems people in the industry agree. Not only did the show get nominated in the Best Television Series — Musical or Comedy category, but the shows star, Frankie Shaw, also received a nomination for Best Performance by an Actress in a Television Series — Musical or Comedy. This is Shaw's first Golden Globe nomination.
If you're unfamiliar with SMILF, Shaw stars as Bridgette Bird, a 20-something year old single mom, who's trying to figure out how to have a happy work-life balance. Shaw created and produces the show and it's based on a short film she'd done with the same title back in 2015, which was also based on her own earlier life when she was a single mother struggling to make ends meet. Also, in case you were wondering, SMILF stands for Single Mother I'd Like to F*ck.
While some dedicated fans are certainly happy about the nominations, other people are quite confused. Many people didn't know what SMILF was prior to the nominations and some are even quite mad that the show got nominated over longtime favorites Transparent and Veep, as well as Veep star Julia Louis-Dreyfus. The Golden Globes has always been seen as the award show that's a little more quirky than others in terms of their nominations, and some people are joking about the fact that, of course, the Golden Globes would nominate a show called SMILF. However, if you've actually seen the show then you know both nominations are well deserved.
The show takes place in South Boston and is the perfect mix of dark humor and drama. Bridgette shares a small room with her 2-year-old son, Larry, and while she works as a nanny to keep them afloat, she's also going out to auditions. This is all while, of course, trying to raise her son. Naturally, Bridgette is apt to still make some pretty bad decisions, but at the end of the day it's clear she's doing the best with what she's got.
Each episode follows Bridgette as she attempts to overcome some new misadventure but along the way, viewers learn more about Bridgette's backstory. For example, she struggles with an eating disorder and has been a nanny for the same family for a pretty long time. It also becomes clear that Bridgette feels somewhat stuck in her life and routine, but she is a good actress so there's still always that hope that she will finally get her shot one day.
Along with Shaw, the show also has a great cast. Playing Bridgette's mom, Tutu, is Rosie O'Donnell; playing Bridgette's ex and Larry's dad, Rafi, is The Strain's Miguel Gomez; and the mother at the help of the family Bridgette nannies for is Connie Britton. The show is filled with a great mix of funny and heartfelt moments and the cast plays them all out perfectly. At the center of Bridgette's short comings and mistakes, the show always returns to her role as Larry's mom, the one role she always puts first.
If you haven't watched SMILF yet, you should definitely give it a chance. It airs on Showtime on Sundays at 10 p.m. EST.
Check out Romper's new video series, Romper's Doula Diaries:
Watch full episodes of Romper's Doula Diaries on Facebook Watch.