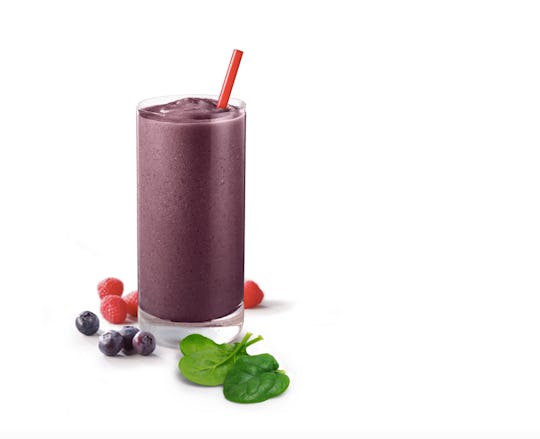 Courtesy of Smoothie King
Smoothie King Is Now Serving A Prenatal Smoothie, & You'll Want One ASAP
One of the ultimate conundrums of pregnancy is trying to balance your cravings with making sure that you're getting all of the nutrients that you need to support the tiny human life that's rapidly growing inside you. Given that there are already so many foods that some doctors advise against consuming while pregnant, and that many moms consider substances like alcohol totally out of the question during those precious nine months, news of a delicious drink specially crafted for expectant mothers sounds all the more sweet. Smoothie King is now serving a prenatal smoothie, and based on how it sounds, you're going to want to get yourself there ASAP.
Chewboom.com reported that Smoothie King, the smoothie and juice giant located in multiple states within the western United States, has teamed up with the supplement company Premama to create a specialty drink just for pregnant women. The "Premama Smoothie" is a mix of bananas, wild blueberries, raspberries, organic spinach, apple juice, protein blend, and the Premama prenatal multivitamin. You have the option to sweeten it with a stevia plant-based sweetener, and of course can customize it if there's one ingredient you dislike or can't eat for a medical reason. The report also noted that the smoothie is made with no trans fat, high fructose corn syrup or hydrogenated oils, is gluten-free, and is already available at all Smoothie King locations in the U.S.
For moms who are concerned about calories, sugars or sodium content, Smoothie King is transparent about their ingredients, as well as the nutritional information for any one of their beverages. For a 20-ounce Premama Smoothie, you would be consuming the following:
Calories: 300
Fat: 1.5g
Calories from Fat: 15
Cholesterol: 10mg
Carbs: 71g
Sugar: 45g
Protein: 7g
Sodium: 210mg
Fiber: 11g
Smoothies can be an excellent option for expectant moms not only because they pack a serious nutritional punch, but because between cravings and bouts of nausea, finding foods that will both soothe your stomach and be helpful to your growing child can sometimes be hard to come by. However, as with everything during pregnancy, there are some precautions to be taken.
The FDA reported that moms who want to consume fruits, vegetables or juices should be sure to thoroughly rinse and clean them before consumption, as some can be contaminated with harmful bacteria. Specifically, the report cites Toxoplasma as one parasite that's often found on fruits and vegetables and can be particularly harmful to a mom-to-be and her unborn baby.
The FDA also warns that expectant mothers should be aware of consuming raw sprouts, as bacteria can seep into their pores and potentially cause infection. On top of that, moms should seek out pasteurized juices, as you would find in the refrigerated or frozen aisles of the grocery store. Though heading to the farmer's market to enjoy a juice on a Saturday morning is always very fun, sometimes drinks that are fresh-squeezed or sold by the glass may not be as safe or regulated as other options would be. If a beverage has not been pasteurized, the following will likely be on the label, or disclosed somewhere when you purchase:
This product has not been pasteurized and therefore may contain harmful bacteria that can cause serious illness in children, the elderly, and persons with weakened immune systems.
However, it's pretty safe to bet that sourcing smoothies from a reliable manufacturer like Smoothie King will ensure that your drinks are up to the quality that you and your baby deserve. The company notes that all of their drinks are made with real fruit and fruit juice, nuts, veggies, as well as "high-quality proteins, vitamins, minerals, antioxidants." On top of that, their drinks do not contain high fructose corn syrup, or trans fat, and are monitored by the NSF. "The perfect Smoothie is made with only high-quality ingredients," they explained.