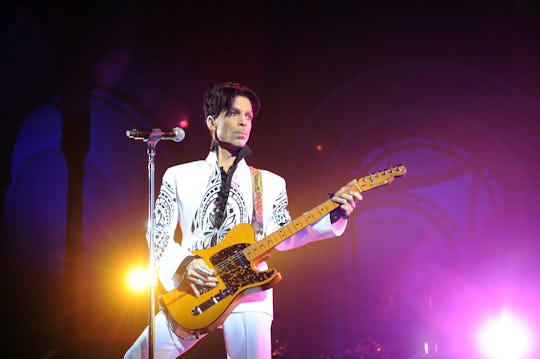 BERTRAND GUAY/AFP/Getty Images
Snapchat's 'Purple Rain' Filter Is Everything & So Simple To Use
Well done, Snapchat. Well done. While the world is mourning the death of Prince, the social media app has added another way to honor the musician's genius. following news of Prince's passing on Thursday, Snapchat quickly unveiled a "Purple Rain"-inspired filter — it's surprisingly beautiful and a perfect way for fans to pay tribute.
Users of the popular app can now add a geofilter with a layer of purple raindrops over their photographs, a simple and touching gesture connecting fans everywhere that is easy enough to try out for yourself. In addition to adding the Snapchat geofilter by swiping left after you've taken your photo, you can contribute to the "We Love Prince" story on the app throughout the day.
Users seem to be impressed with Snapchat's move today, but just yesterday the app came under fire following a controversial Bob Marley filter to celebrate April 20, also known as 4/20 (a reference to those who enjoy marijuana). The filter added the signature Bob Marley Rastafarian hat with dreadlocks, but it also made the user's skin darker. Angry users took to social media calling the feature "digital blackface." Thankfully, on Thursday, the app company seemed to strike the right balance.
Social media has been exploding with grief — "Prince" became a top-trending term on Twitter worldwide after his death was reported. His name had been tweeted more than 4 million times as of Thursday afternoon.
As you're scrolling through Twitter and watching your Snapchat stories, you can continue to relive your favorite Prince hits and memories by listening to every car drive by from your apartment window blasting "When Doves Cry" or by turning on MTV: the iconic music television network swapped its previously scheduled content for a "dedicated block of his most influential music videos."
Celebrities and fans alike are crushed and shocked by Prince's sudden death, but social media has made grieving a bit easier by bringing people together to share the loss. You can even get a more personal glimpse of the pop icon's life through scrolling through his personal Instagram and Twitter accounts. His memory will live on.