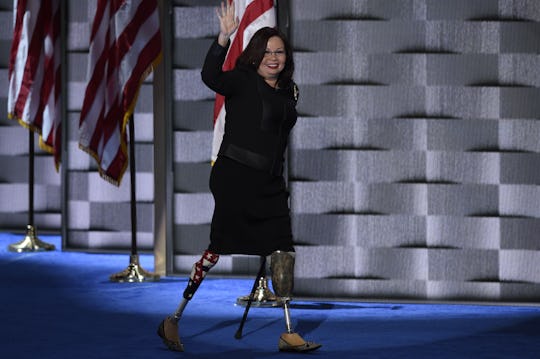 SAUL LOEB/AFP/Getty Images
'SNL' Saluted Female Minorities Elected To Congress & Highlighted A Silver Lining
Hillary Clinton's loss to Donald Trump last week was devastating for a number of reasons, not the least of which was that thousands of American women were ready to make history and elect the first ever female president of the United States. Her loyal supporters watched her concede the presidency on Wednesday to a man uniquely unqualified to hold the office she had spent her entire adult life working toward. Clinton graciously and needlessly apologized to her supporters for letting them down, as well as revealing she selflessly offered to work with President-elect Trump during his first term in her concession speech that same day. It was heartbreaking for those who have loved, supported, campaigned, and voted for Clinton throughout the election. In those first few moments after her loss, it felt like there was really no light at the end of the tunnel. Saturday Night Live, though, reminded us last night that, in half of the country's collective grief, had forgotten something: SNL saluted the female minorities elected to the Senate on Tuesday, highlighting an important silver lining to this otherwise turbulent election.
History was made on Election Day — it just wasn't in the way we had all imagined. The first woman president of the United States won't be Hillary Clinton, but perhaps it will be one of the four minority women elected to the Senate on Tuesday. Tammy Duckworth, Kamala Harris, Mazie Horono, and Catherine Cortez Masto quietly accomplished something of great importance, and "Weekend Update" host Colin Jost pointed out as much on the first episode of SNL since the election.
"A record number of female minorities were elected to the Senate," Jost noted, before facetiously asking, "Let's see all of their names right now." In a split second, the four names scrolled quickly up the screen, backed by Rachel Platten's "Fight Song" (Clinton's campaign song of choice), and the camera panned back to a startled Jost, who quipped, "That's it?"
While the punch line is that America's best ever record is only four minority women, it's still a critical step forward for women and minorities. Stephanie Shriock, president of EMILY's List, highlighted exactly why in a statement, saying "Perspectives matter, and our women bring much-needed voices to Congress to lead on policies that matter to women and families. Each of these new voices is a beacon of hope for our movement."
The United States government has largely and traditionally been made up of white males. From the founding fathers to today's representatives, our government has overwhelmingly been a boys' club. The Washington Post reported in 2014 that member of Congress were 80 percent male, about 80 percent white, and an average of 60 years old. A new study called "Political Inequality in America:Who Loses and What Can Be Done About It?" conducted by University of California researcher Zoltan L. Hajnal, examines the "effects of class, race, and gender on representation," according to Al Jazeera. The study found that minorities were more likely to be overlooked in policy decisions. Black women's voices were found to be ignored in policy decisions more than any other minority group.
Sadly, it does make sense that this happens. How is a Congress made up almost entirely by one type of person supposed to make intelligent decisions on behalf of everybody in the country? Why are men entrusted to make the decision on what's best for women's bodies? Why is a body largely made up of white representatives entrusted to make decisions for entire communities of minorities, without sizable input from members of those communities? Diversity in our government will allow for more thoughtful, helpful, and important decisions be made to benefit our entire country, not just one section of it.
Catherine Cortez Masto, the first Latina senator, took to Facebook after her win, writing to her supporters that she believes "our diversity is our strength. As the first Latina Senator I will use my seat at the table to fight for diversity. To Nevada and the country: la lucha sigue." Much like Hillary Clinton's sentiment in her concession speech, "la lucha sigue" translates to "the fight continues." With a record number of minority women now in Congress, the battle feels slightly less uphill.