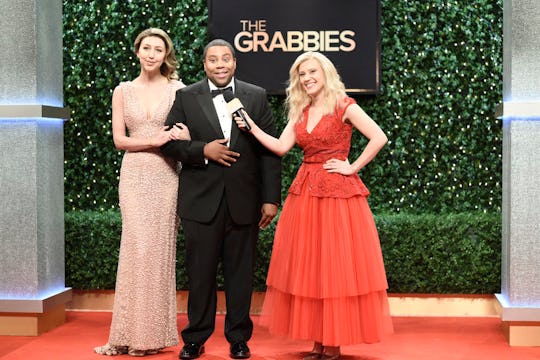 Will Heath/NBC
'SNL' Introduces A New Awards Ceremony For The Me Too Era
With the Oscars coming up and the Time's Up movement still going strong, it was all but guaranteed that Saturday Night Live would have something to say. Early in the show the SNL Oscars parody skit tackled the Me Too and Time's Up Movements with their new awards ceremony, The Grabbies. Instead of honoring the best entertainment of the year before, The Grabbies go to the men (and one woman) who were the most egregious sexual abusers of the year. Honestly, the way things are going lately, I wouldn't be entirely shocked if I saw an awards ceremony like this in the next couple of years.
Saturday Night Live returned on March 3 after a break of a few weeks, with Charles Barkley as host (for the fourth time). As the stand-out skit of the night, The Grabbies poked fun at all the men who have been accused of sexual harassment in the wake of Me Too and Time's Up, which has seen several prominent figures in the entertainment industry be accused of sexual harassment and abuse. At this point, nothing shocks me any more when I hear of yet another man being accused. The Saturday Night Live skit just pointed out that there's, well, a lot of these people now.
The awards were presented by the Academy of Sexual Harassment, while Cecily Strong played the awards' red carpet host, aided by a few men who bopped in and out, and Kate McKinnon, who is a joy in absolutely every situation. The awards up for grabs included "Handsiest Actor," "Most Open Robe," and the "Cecil B. Molestin Lifetime Achievement Award." Most everyone was appropriately ashamed to be on that particular red carpet, except for host Barkley, who was maybe the best part of the whole skit.
Strong pointed out that he was wearing several buttons, just like many men have been wearing Time's Up pins to other awards ceremonies. But Barkley's pin didn't say "Time's Up" it said "Tim's Up," because his name is Tim. And another pin did not say "I'm with her" instead it said "I'm with herpes," which is apparently more common than I realized. But Barkley didn't get the only jokes of the evening.
As the nominee for "most open robe," Pete Davidson said that he was wearing "thin sweatpants with no underwear," and said that should he win, his acceptance speech would include a thank you to guns for pivoting the national conversation away from harassment, as well as his uncle who always said "boys will be boys, even when it was like OJ." Aidy Bryant made an appearance as the only woman nominated for one of these awards. She was asked what she'd done to earn it, since it must have been something big for a woman to get a nomination. In a French accent (perhaps in a veiled reference to the French actresses Cathrine Deneuve and Brigitte Bardot's statements criticizing the movement) Bryant cheerfully said, "I bit off an intern's penis."
I don't know if Jimmy Kimmel has anything quite so heavy-handed for when he hosts the Oscars on Sunday, though the movement is sure to be discussed. At this point there's really no way to avoid it, which is undeniably a good thing. I don't think the Saturday Night Live sketch provided a very serious critique or commentary on Me Too and the problem of harassment in Hollywood, but then again, that's not really what I ask SNL to do. Because honestly, I chuckle every time I see Kate McKinnon or Cecily Strong and that's all I need in my life from this show.
Check out Romper's new video series, Romper's Doula Diaries:
Watch full episodes of Romper's Doula Diaries on Facebook Watch.