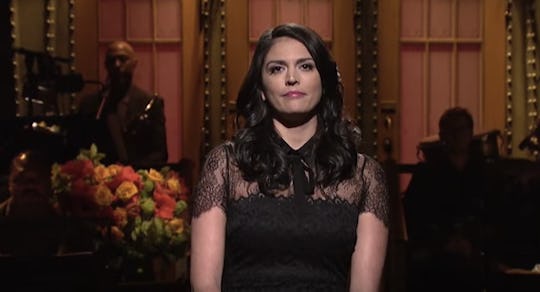 'SNL's Paris Tribute With Cecily Strong Proves The Sketch Comedy Show Can Handle Tragedy — VIDEO
Following the Paris terror attacks that left over 120 people dead (and over 350 people wounded), tributes for the victims of the Paris attacks have been pouring in across the world. And, instead of opening with its regular political riffs, Saturday Night Live paid tribute to Paris in its cold open.
Cast member Cecily Strong took the stage at Studio 8H said the following to viewers both in English and French: "Paris is the City of Light. And here in New York City, we know that light will never go out. Our love and support is with everyone there tonight. We stand with you."
It was a moment that would remind anyone of SNL's handling of the aftermath of the 9/11 attacks in New York 14 years ago. After its hiatus following the attacks, Saturday Night Live returned with a cold open featuring New York firefighters, Mayor Rudy Giuliani, and Lorne Michaels, who invited a needed laugh when he asked Giuliani, "Can we be funny?" (Giuliani's response: "Why start now?")
Indeed, SNL has always been good at handling tragedy, and helping us realize that terror will never keep us from laughing. See the clip from SNL below:
Though we're likely to see more tributes from late night in the coming week, on Friday, audiences of The Late Show already watched Stephen Colbert get emotional when discussing the attacks, which occurred near the end of the taping of his show.
Image: NBC