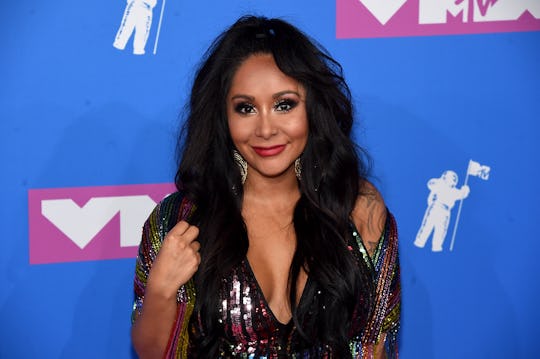 Jamie McCarthy/Getty Images Entertainment/Getty Images
Snooki Dishes On Where She & Her Husband Have Baby-Making Sex
When you have kids at home, it can be difficult to find a time and place to become intimate with your partner. Especially when a couple is trying to conceive, they might need to get a little creative in these areas. Because there's a pretty small window of opportunity during which a woman is the most fertile — and once that window is gone, you're stuck waiting for another cycle. Recently, Jersey Shore's Snooki dished on where she and her husband have baby-making sex. And I'm guessing it might sound pretty familiar to fellow parents.
Nicole Polizzi — AKA "Snooki" — opened up to Us Weekly about how she and her husband, Jionni LaValle, make intimacy a priority with young children at home. (If you remember, the couple already has two kids: A son, Lorenzo, 6, and a daughter, Giovanna, 4.) To make sure they have time to physically connect as a couple, Polizzi and LaValle have an at-home date night at least monthly, as soon as their kiddos are in bed. "We get our wine, we order pizza and then we go into our spare room," Polizzi told Us Weekly. "We stay up till 3 o'clock in the morning just watching Netflix and getting drunk and trying to have a baby."
Well, then. Although some people might view Snooki detailing her date night as a serious case of TMI, I, for one, appreciate her candor. Because for parents of young children, the logistics of baby-making can definitely be a struggle.
Besides, it shouldn't come as too much of a surprise to fans that Polizzi and her husband are actively trying to add another little meatball to their family. While Polizzi was at the MTV Video Music Awards in August, she revealed that baby number three was already a hope in progress. "I'm trying now," Polizzi told Entertainment Tonight. "I'm practicing now. It's going good. I'm not pregnant yet but, I mean, we've been practicing for a month now so…"
About a week ago, Polizzi gave another update on the state of her womb. "We've actually been trying for two months now and it's not happening," the Jersey ShoreL Family Vacation star told Us Weekly. "So I'm just gonna relax. If it happens, it happens." In her most recent interview, Snooki elaborated on her frustration that she's not pregnant yet. "I don't know what's wrong. Maybe I'm stressed or I'm just working [too much]. My schedule's too hectic," she said. "On set I took a pregnancy test every day. Then I'd have a glass of wine."
As frustrating as tracking ovulation, strategically timing baby-making, twiddling your thumbs through the two-week wait, and still ending up with negative pregnancy tests can be — and then doing it all over again month, after month — Polizzi shouldn't give up hope just yet. According to BabyCenter, the majority of couples (60 percent) conceive within three months after they start trying and 80 percent wind up pregnant within six cycles. So chances are, she and LaValle will eventually be able to realize their dream of a third child.
In the meantime, I'm willing to bet Snooki's baby fever is on overdrive, considering one of her Jersey Shore co-stars is currently pregnant with her first child. As Cosmopolitan reported, Deena Corteese and her husband, Chris Buckner, are expecting a baby boy in December. The couple shared their happy news with a pregnancy announcement and a sex reveal all in one epic Instagram post back in July.
Here's to hoping Snooki and her husband will have some baby news of their own to share with fans in the next few months. All of the magic baby dust to you both!