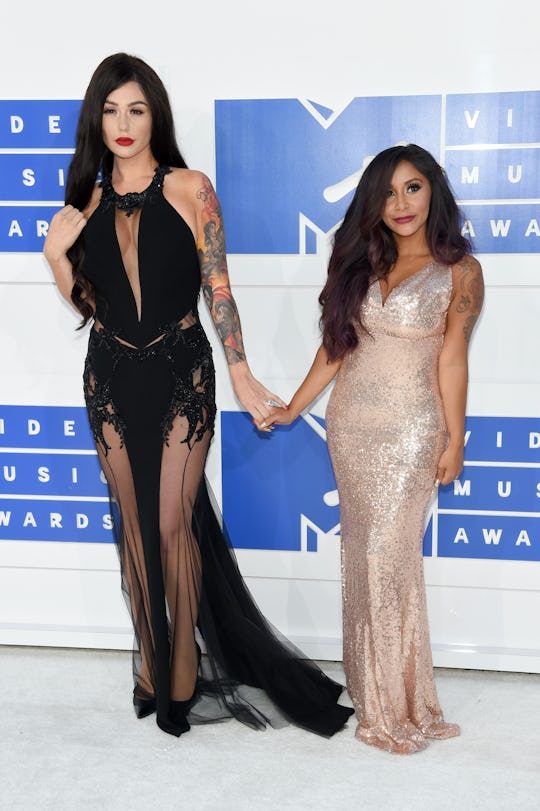 Jamie McCarthy/Getty Images Entertainment/Getty Images
Snooki & JWoww Dish On Motherhood, Life After 'Jersey Shore', & Being 'Moms With Attitude'
In 2009, MTV aired the first episode of Jersey Shore. I recently rewatched it — because nostalgia, OK? — and realized just how much I forgot from the show, the house, and most importantly, the cast. (And yes, I forgot just how high Snooki's poof was.) But, that was just about seven years ago. Time has certainly changed for those involved, especially Jenni 'Jwoww' Farley and Nicole 'Snooki' Polizzi, who are now out of the Seaside Heights spotlight and promoting a whole new type of show. Awestruck's Moms With Attitude on go90 features the two former Shore residents tackling an entirely new "situation." Motherhood.
It's not to say that the two are completely different people now. In fact, they don't think they've changed at all. "We're still the exact same people, but we just now how to take care of kids now," Nicole tells me in an interview with Romper. "Nicole and I were true to ourselves on the show, so we stayed true to ourselves off the show," Jenni says.
Their time in the spotlight still remains, although they've shifted their narrative. In 2010, the conversation surrounding Nicole was legally-driven, while Jenni was "admitting" she (and Nicole, actually) weren't of Italian heritage, something that was considered "shocking" after a Fox Strategy Room interview. Remember when those were the things we were most worried about in our country. Rewatching the show doesn't sound so bad, does it?
On Moms With Attitude, the two are showing just how far they've "grown" as Jenni puts it. Now, they just have two kids each (Jenni has a daughter and a son, born in 2014 and 2016, respectively; Nicole has a son and daughter, as well, born in 2012 and 2014, respectively). The show basically shows that, even with children, these two still have the same personalities that you couldn't help but become addicted to in 2009. Now, though, those personalities are put to the test as Jenni and Nicole try things like navigating a road trip with the kids in the back.
Their friendship is potentially one of the most comforting things about our time together. It's not hard to feel like a third-wheel with Jenni and Nicole, since they have experienced almost every high and low one could face with each other. That type of bond is something they're thankful for. "It's a great support system," Jenni says. "I think if you go through certain things together, you're able to keep friends and keep them close. That's what I appreciate about Nicole. Through the craziest stages of our lives (Jersey Shore, Snooki & Jwoww), we've always had the same thing going on, so we could always support each other."
That type of bond isn't common — though neither is spending the most formative years of your adult life on TV. "She was really mean to me at first," Nicole says. "I was not," Jenni interrupts. "I still don't believe that for a second."
"If anything, being on TV and being in the public eye — helping the teenagers overcome the insecurities of online bullying and things like that, that means a lot to me."
With years being in the public eye behind them, the two have seen it all, and sometimes that means things that aren't exactly positive or kind. "I feel like we've become advocates for people fighting against trolls and haters," Jenni says, complimenting Nicole's "witty responses and come backs" to trolls.
"You just kill them with kindness... because then they feel stupid," Nicole says.
Eyes are on the two to use their experiences with haters in a way that will hopefully help others. "If anything, being on TV and being in the public eye —" Jenni says, "Helping the teenagers overcome the insecurities of online bullying... that means a lot to me."
"Just be yourself," Nicole says. "Everybody is going to have an opinion about you, but as long as you're comfortable in your own skin, who gives a sh*t what anybody else thinks?"
While it sounds like the two have it figured out, there are things they face on social media — whether it be a stigma attached to motherhood, or just being a celebrity in general — that they're still working around finding a solution.
"Every single post, I get something," Jenni says. "I just learned on Instagram you can take the comments off." Nicole says she is still surprised Jenni posts photos of her kids on social media, noting that Snapchat allows fans to see their families, but doesn't leave anything online for too long. Nicole also notes that Instagram now filters comments, so she set her account to filter out "lips, whore, and slut."
"I always go back to [Victoria Beckham]," Jenni says. "She was kissing her daughter on the lips and that got like [so much hate]..."
Nicole interrupts, "I make out with my son, calm down."
"Yeah, I will be doing that until I have to force them to kiss me. They're going to be hating it when they're teenagers," Jenni laughs.
At this point you might be realizing that these two have indeed grown from the "smushing" and the Duck Phone to incredibly relatable people. Jenni even shares that she felt like she fell into "a slump" after becoming a mom, something many women can relate to.
"I lost myself," Jenni says. "I wanted to come back... That's exactly why I did [Inked magazine]."
"Everyone was like, 'Your daughter is going to be so embarrassed, you're a mom now,'" Nicole says. "She looks freaking amazing after two kids. That's empowerment. That's awesome."
At the end of our chat, I ask "the million dollar question," as Nicole calls it. Will they show their kids Jersey Shore, and if so, what does that conversation look like? "I say it's like Santa," Jenni says. "I just want to be the one to break it to [my daughter]. It kills me that, like Santa, kids at school will ruin that opportunity for me."
Luckily, Jenni and Nicole are taking on all of these challenges, and more, on Awestruck's Moms With Attitude on go90.