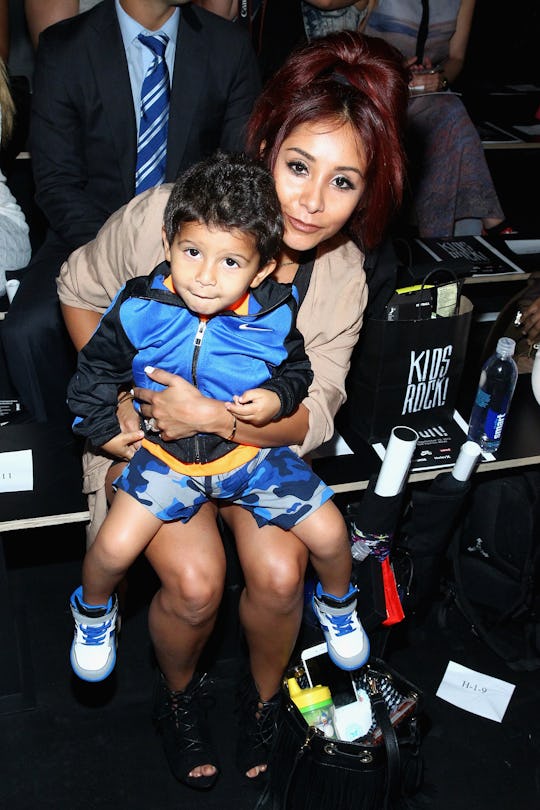 Astrid Stawiarz/Getty Images Entertainment/Getty Images
Snooki Says She Stills Parties As A Mom, & TBH, She Makes A Really Great Point
It's been six whole years since the cast of the Jersey Shore last graced our TV screens with gym, tanning, laundry, and a whole lot of beachside drama. In the time since, a lot has changed. The cast is returning to TV this year for a reunion show, Jersey Shore Family Vacation, in which we see that Snooki hasn't stopped partying, and neither have her former housemates. Nicole spoke out about it in a recent interview, and made a pretty important point about motherhood, expectations, and what it means to have a (responsible) good time.
Since the show concluded, Nicole "Snooki" Polizzi, got married, had two kids (Lorenzo and Giovanna), and now runs her own fashion and accessory store, The Snooki Shop. It's definitely a change of pace for the reality star, and when she was asked about what she will tell her children who watch her shows one day, Snooki told Good Morning Britain: "We're partying. We're not killing anybody!" She went on to say that she wants her kids to grow up to be responsible, but to have fun. "When they're older I want them to have a good time and party, be responsible obviously."
It should go without saying that not taking parenthood seriously, or partying so much that you are no longer an effective caretaker for your children, is not OK. But that doesn't seem to be Snooki's case. Despite the stereotypes that have surrounded her, it's clear she's a great mom who cares a lot about the health and wellbeing of herself and her family. To see her returning to TV for a show that combines the last chapter of her life with this one is refreshing, and reminds us all that people contain multitudes.
Beyond that, it's an important point given how moms are policed excessively for just about everything, but especially for taking time to do anything that isn't self-sacrificing. It's important to remember that you can still go out, have a great time, come home and be the best parent imaginable. In fact, taking time to do things for yourself might just help you be a better parent and a happier person.
Of course, Nicole is no stranger to dealing with mommy shamers (and really, judgmental people in general). In response to a photo she posted of her daughter after a dance recital, she disabled the comments citing that she knows she's a "damn good mom," and that she doesn't need people judging her for what she is or isn't doing right. (She did conclude that post saying she knows what she's doing, at least most of the time, which was refreshingly honest and true of us all.)
She's also gone on the record to say that every road to parenthood is different, and that we shouldn't judge anyone who doesn't do everything exactly as we would. "We're not all the same – we do different things, we parent different," she told People. "At the end of the day, we're all moms, and we take care of our kids."
The important thing to remember here is that there's no place to be judging Nicole, or anyone else, for their past actions if it's evident that they've since changed. (Who among us would want to have their reputation limited to what it was when we were in our teens and early 20s?) It's beyond clear that Nicole is a different person than the young woman who partied on TV. Despite the fact that she's clearly turned over a new leaf and has reoriented her priorities in life, it's refreshing to hear a great mom also note the importance of going out, having fun and maintaining a life outside of being a parent. Sure, there's a healthy balance for everything, and right now, Nicole seems to be striking it well.
Check out Romper's new video series, Bearing The Motherload, where disagreeing parents from different sides of an issue sit down with a mediator and talk about how to support (and not judge) each other's parenting perspectives. New episodes air Mondays on Facebook.