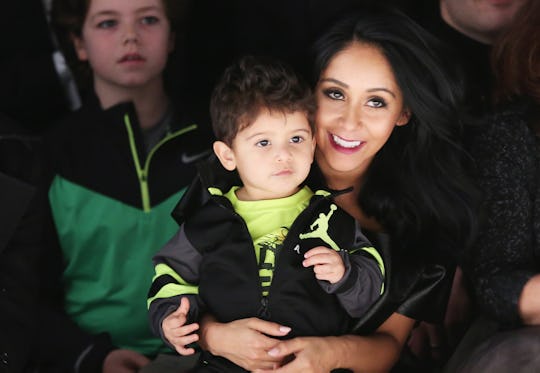 Cindy Ord/Getty Images Entertainment/Getty Images
Snooki's Birthday Tribute To Her Son Is Super Sweet
Having a child can change a person's life. It makes people reexamine their priorities, slow down a little, and reevaluate some things. This could not be any more true for Snooki (Nicole Polizzi), who made her television debut on reality show Jersey Shore as everyone's favorite party girl. But now, almost 10 years after the show's premiere, Snooki is a changed woman thanks to her children. And Snooki's birthday tribute to her son, Lorenzo, could not be any sweeter.
Snooki and husband Jionni LaValle welcomed Lorenzo into the world in 2012, exactly five years ago, and therefore changed her life forever. Snooki let everyone know just how much her son helped turn her life around in an Instagram post, that shows just how much her son has grown up in the past five years, shared to her account. Snooki wrote in the photo's caption:
OMG. Happy 5th birthday to my son who changed my life for the better. You are my world and I'm so proud to be your mommy! I remember when I first laid eyes on you and knew I would protect you with all of my being until the day I die. I'm writing this he's gonna read this and say "thanks ma." Happy birthday Lorenzo! Stop growing and freaking me out!
Snooki's son was the one who made her trade bottles of vodka for bottles of milk which was a much welcomed exchange. In 2014, Snooki gave birth to her second child, a daughter, Giovanna, and has been embracing motherhood and loving her life ever since. In February Snooki told E! News that she and Jersey Shore pal JWoww, who has two children of her own, are happy to be where they are. "I think we always wanted to be moms, we just didn't know the right time because obviously we were crazy and insane," Snooki said.
Well that is certainly one way to put it. In the past five years since becoming a mother, it is clear that Snooki has learned so much about just that — being a mother. Just last year, Snooki told Bustle that not second guessing her parenting skills (and trusting that motherly instinct) was the best advice she received as a new mother and therefore gave her confidence to be a mother. "I was beyond worried how I would be as a mother but I'm pretty bad ass," Snooki said.
It is clear that Snooki is an amazing mother to Lorenzo, and her birthday tribute to him only highlights how far she has come.