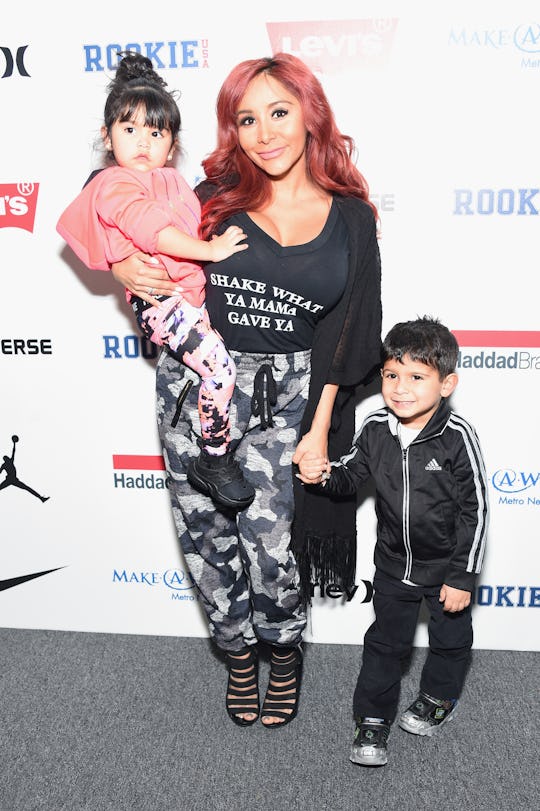 Michael Loccisano/Getty Images Entertainment/Getty Images
Snooki's Mother's Day Message To Mom-Shamers
There is no doubt that practically everyone has made or will make some questionable decisions in their early 20s. They say your 20s are a time for self-discovery and making mistakes, but most of us don't have these questionable decisions captured on a hit MTV show for the whole world to see. Former Jersey Shore star Snooki (real name Nicole Polizzi) is now a mother of two and has moved on from her past, yet some can't seem to let it go. Because of this, Snooki's Mother's Day message to mom-shamers is an important reminder that mothers need to be respected for their decisions they make, and that people need to think before they judge.
Snooki has left her days of clubbing and fist pumping behind her now that the reality show has been long off air. For the past four years, Snooki has been a devoted mother of two to 2-year-old daughter Giovanna and 4-year-old son Lorenzo. In spite of the past being in the past (and the fact that, yes, moms are allowed to have fun sometimes too), Snooki still receives backlash from haters and people quick to criticize her life, for no apparent reason. On the day before Mother's Day, the mom of two took to her Instagram to address the criticism, sharing a photo of herself and her daughter together, and turned the comments off — sending an strong message that everyone should read.
"Instead of not posting my kids for the people who respect and appreciate their photos, I will turn off the comments section," Snooki wrote. "I don't need a—holes telling me how to raise my child and judge them. I'm a damn good mom and know what I'm doing. Well, most of the time."
Snooki is right. Even as a public figure, she doesn't deserve strangers' criticism, telling her what she is doing wrong or right as a parent, especially if the only thing they're judging her by is what she shares on social media. Snooki has the right to show fans her kids — a very important part of her life — without the harsh judgement of others.
In the past, Snooki has been quick to call out other mom-shamers on her Instagram and took a break from posting photos of her children on Instagram in 2015, after the criticism had become too much.
Even Snooki has admitted that being a mother to two young children has its difficulties, which is why these comments from mom-shamers probably hit just as hard. "The hardest part of motherhood is no sleep, toddlers running your life, and getting hit in the face 24/7," Snooki told Bustle this past September. "The easiest part of motherhood is the love you share with your kids, because the hugs can be endless!"
This Mother's Day, Snooki will get all the love she deserves from her children and fans, as she should. Mom-shamers, step back.