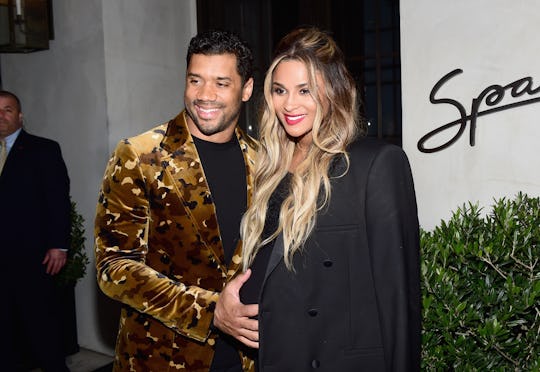 Emma McIntyre/Getty Images Entertainment/Getty Images
Followers Critique Ciara's Adorable Bump Instagram
As most people know by now, Ciara and husband Russell Wilson are expecting their first child together and have been sharing their family's journey on social media. A big part of that journey is Ciara's 2-year-old son, Future, from her previous relationship. The expectant mother loves posting adorable photos and videos of her happy family on her Instagram account, and on Saturday, she shared yet another sweet photo of herself giving her son a piggy back ride with her baby bump on full display. Though she was clearly all smiles, however, it didn't take long for social media to pounce, critiquing Ciara over her decision to lift her son in the first place.
In fairness, it's likely that many of the commentators simply had Ciara's best interest at heart. And it is true that there is some concern about overexerting yourself while pregnant — but the comments section of a celebrity's post probably isn't the place to voice that concern. Ciara is probably fine. She has gone through a pregnancy before, after all, and most likely knows the limits of her own body and understands her doctor's advice well.
In general, it's usually best to trust that Ciara, as well as expectant moms across the board, are in tune with their bodies and know what is right for them. Ciara looks happy, healthy, and strong, and as along as her OB-GYN has given her the green light to be active, she's more than likely OK.
Ciara announced her pregnancy on Oct. 26 with a beautiful black and white photo of herself and husband Wilson. The two were all smiles as they embraced and declared that they were "excited to finally share one of the Greatest Gifts of All that God could give." It's common for expectant couples to wait three months before announcing a pregnancy, as the risk of miscarriage drops dramatically after 10 to 12 weeks. More than likely, that means Ciara could be due sometime at the end of April or beginning of May.
Ciara seems to be doing well so far, too. In addition to going on fun, sunny walks with her son, Ciara has been seen out and about looking happy and healthy in recent weeks . She attended the annual Elton John AIDS Foundation Oscars viewing party with Wilson as the end of February, with her bump on display in a stunning white gown, and was seen happily smiling with Wilson in a number of photos.
Hopefully the recent criticisms on Ciara's Instagram account don't get her down, but instead remind her that — while they weren't necessarily invited — were likely given out of genuine concern. For now, fans will continue to wait impatiently for the newest addition to the family to arrive. Fingers crossed they keep sharing their journey with us after the baby is born.