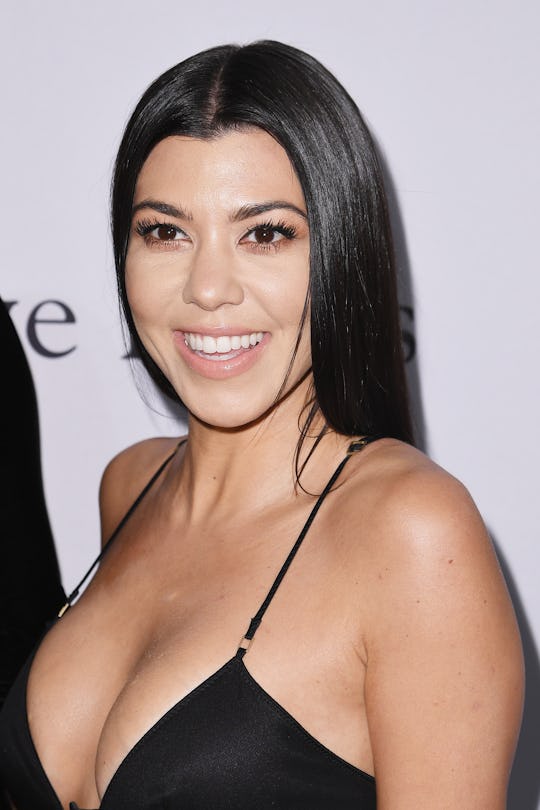 Kevork Djansezian/Getty Images Entertainment/Getty Images
Social Media Shames Kourtney Kardashian (Again)
In another disapointing example of celebrities being shamed over social media, Kourtney Kardashian is the latest victim of faceless commenters dragging women down. Saturday night, the eldest Kardashian sister posted two photos of her children, Penelope, 4, and Reign, 2, sitting on top of their mother's car. A seemingly innocent and sweet moment, Kardashian was soon overwhelmed with negative comments flooding her notifications. Unfortunately, social media is seemingly shaming Kourtney Kardashian's parenting for a variety of strange reasons, and it's totally unnecessary.
Kardashian captioned the two photos with clever and witty phrases, even quoting Kanye West lyrics below one of the images. But her jokes and puns weren't enough to stop haters from flooding the comment section, spewing hateful remarks and shaming Kardashian for "flaunting" her wealth. And while it's no secret that the Kardashian/Jenner troupe has plenty of money, users getting mad at her for posting a photo that many moms all over the world have likely posted variations of before is just plain dumb — especially since several of the comments made harsh remarks about sister Kim Kardashian West's robbery last year.
"Mayonnaise-colored Benz, I push Miracle Whips," Kardashian captioned the above photo, quoting brother-in-law Kanye West. Clearly, an invitation for harassment (it's okay to roll your eyes now). Nevertheless, users were quick to let Kardashian know just how they felt. "So stupid. Classless, no wonder you guys get robbed. Just keep showing off what you have and keep getting robbed. #dumba--" one user posted. "You really didnt [sic] learn anything from your sister, did you?" another added.
Harsh. Using a traumatic event in someone's life to hurt someone else, especially their family members, totally crosses the line. And no one deserves to be treated that way. Unfortunately, that wasn't all the flack Kardashian was receiving.
The other photo Kardashian posted Saturday night, a sweet moment capturing the mom extending her arms out to her little ones, was also cleverly captioned. "Rolling into the weekend like..." she wrote, adding a firework emoji. And, surprise surprise, users jumped to conclusions.
Comments like "oh yeah real safe," and "Why would anyone put babies on the hood of car?? Especially when its so high up ??? Smh," began to pile in. Again, totally uninvited. It's clear that Kardashian was watching her kids, and that someone else was taking the picture — two adults, two kids. (You let your kids play on a playground, supervised, right? Just how high is that slide? Come on, now.)
Logistics aside, Kardashian's parenting choices are hers to make, and she shouldn't feel ashamed for posting adorable pictures of some lovely looking family time. Maybe in the future, haters will learn. Until then, here's hoping Kourtney and her family have learned to ignore them.