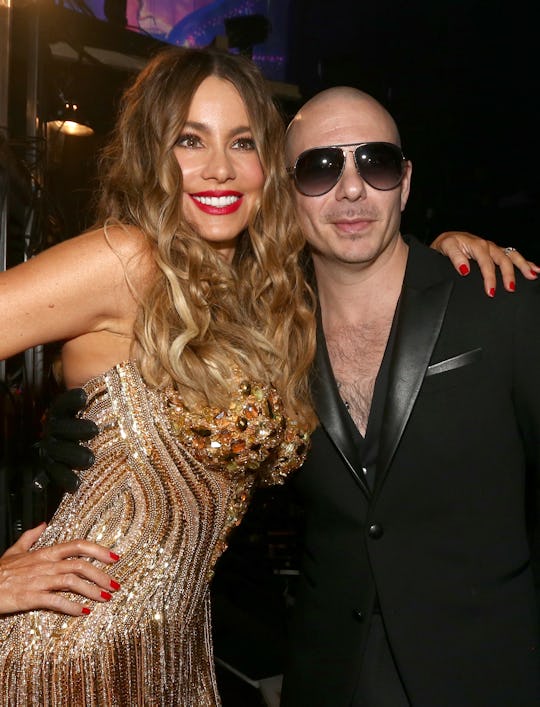 Christopher Polk/Getty Images Entertainment/Getty Images
Sofia Vergara's Oscars Dress Was Super Elegant & Sparkly
Modern Family actress Sofia Vergara presented the award for Best Foreign Language Film at the 2016 Oscars on Sunday, and her red carpet appearance blew people away. Sofia Vergara's Oscars dress did not disappoint. It was dark blue and super sparkly, and Twitter was seriously impressed.
Vergara shared an Instagram on Saturday of her prepping for the Oscars by getting a facial. But she also shared an Instagram of what looked like seats and labels at the venue for the Oscars. Vergara isn't nominated for anything this year, but that didn't stop her from getting on the stage as a presenter.
Vergara most recently made headlines when she opened up during an interview with Harpers Bazaar Arabia, according to Us Weekly. She said that she and her husband, Joe Manganiello, have considered having children, but that they're not really in a rush to get there:
I cannot just expect anything natural anymore. We'll see what happens. It's not something that doesn't let us sleep. But it's not something I am completely opposed to.
Vergara already has one child, 23-year-old Manolo Gonzalez-Ripoll Vergara, from her first marriage, according to Us Weekly. In the interview, Vergara also said that she was able to achieve a lot in her career because Manolo was such a well-behaved child. She said she was able to do "everything I wanted to do," even as a single mom. Vergara blew fans away on the red carpet, yet again, proving that she really is a badass single mom who can do it all.
Vergara's Oscar's dress was elegant but also brought the bling (in a good way).
According to Stylecaster, Vergara's dress was by Marchesa and the pulled-back hair look was somewhat unusual for her. Regardless, she rocked it, and she'll definitely own the stage as a presenter.