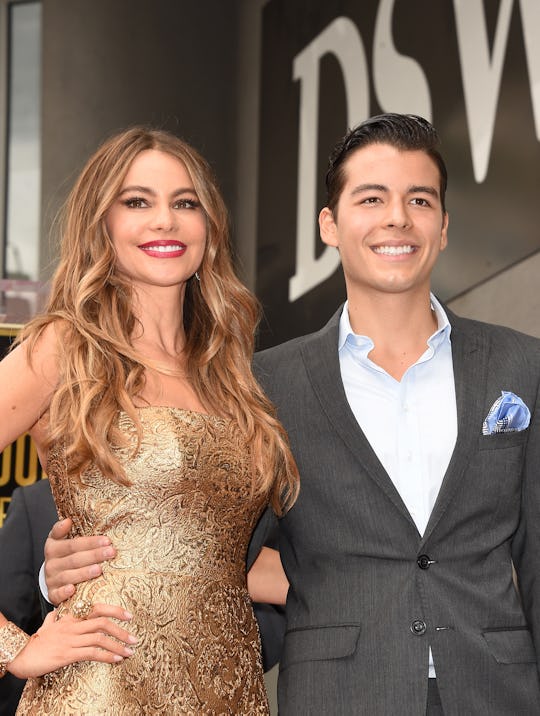 Jason Merritt/Getty Images Entertainment/Getty Images
Sofia Vergara's Single Mom Comments Should Inspire Us All
Sofia Vergara is one of my favorite people on television. She is hilarious, unabashedly confident and married to perhaps on of the hottest guys in Hollywood (hellllo, Joe Manganiello). But before her rise in Hollywood, Sofia Vergara was just a single mother trying to raise her son. In a recent chat with People, Sofia Vergara's single mom comments only added to her long list of admirable character traits — and they should serve as something of an inspiration for hardworking moms everywhere.
Vergara was recently named one of People Magazine's Most Beautiful People for 2016 in their annual Most Beautiful issue. In the issue, Vergara made a few honest and heartwarming comments about raising her son, Manolo Gonzalez Ripoll Vergara, who's now all grown up at 23 years old.
Vergara married her high school sweetheart, Joe Gonzalez when she was 18 and then welcomed Manolo just two years later. After the couple divorced in 1993, Vergara effectively became a single mother. Of course, she didn't let the extra work drag her down — and she told People that she was reminded of how lucky she was anytime someone highlighted her son's achievements. "Every time people compliment me about my son, Manolo, it is very rewarding," she said.
Vergara continued,
I was really young when I divorced his father, so I raised him trying to set the best example and give him the best that I could. When people compliment me on him, on how well mannered, how charming, funny and well-behaved he is, it makes all the sacrifices worthwhile.
How incredibly sweet is that?
What makes Vergara's comments about motherhood so inspiring is that she recognizes the struggle of wanting to make your child be the best person they can be. Every decision made during parenting is one that you hope will be the right one. Vergara's understanding of what makes motherhood or fatherhood so incredible, despite the difficulties, means that every decision she — and so many like her — made were worth while.
And she should definitely be proud of her son. Vergara was there with Manginiello to watch him graduate from Emerson College in Boston in May of last year, which she documented on her Instagram account. How could she not be so proud?
In 2013, Vergara told reporters about the list of concerns she had for her son as a worried mom, according to CelebBuzz. "'Don't get in a car with anyone that is driving drunk,'" she said, sternly. "'Don't be stupid,' ... when he is in New York on his own, 'Don't walk inside a back alley. Use your head. Don't go alone on the train at 3 in the morning.'"
The 43-year-old mom appears to be and sounds incredibly happy for Manolo and I could see why. When you make sacrifices as a single mother, there is no better reward than seeing that little person you raised for so many years turn out to be a real, live, amazing human being.