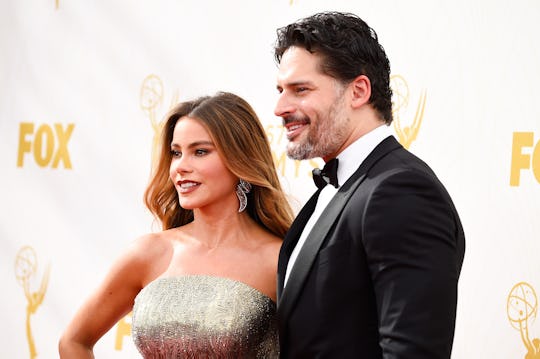 Sofia Vergara's Wedding Photos Are Already Coming In, & Here's Everything We Know So Far
Even though the much-anticipated wedding between actors Sofia Vergara and Joe Manganiello is still hours from being over, their friends and family just cannot contain their excitement over the big day. So much so that, using the (super adorable) hashtag #jofia, friends and family are already starting to share Sofia Vergara's wedding photos from her nuptials to Joe Mantangiello, and it looks like the couple's wedding weekend was absolutely beautiful.
Modern Family star Sofia Vergara got engaged to Manganiello — the actor also known as one of the best reasons for watching Magic Mike and HBO's True Blood — last December. If, like me, your invitation to Vergara's wedding to Joe Manganiello somehow got lost in the mail (I forgive you, Sof, we're cool), you can still get all the details of the couple's beautiful day.
The couple is set to be wed on Sunday, Nov. 22 at 6:00 p.m., the high point of a stunning blowout destination wedding weekend that includes everything from a welcome party and rehearsal dinner, to post-nuptial golfing. And of course, plenty of time at the beach. If your wedding invitation somehow got lost in the mail too, you can still get all the gorgeous wedding details. Here's everything that we know so far about the couple's nuptial celebration:
1. It's All Happening At The Breakers Resort In Palm Beach
The couple invited around 400 guests to join them for a wedding weekend in Palm Beach. According to a source interviewed by E! News, the couple have taken extra pains to make sure that the ceremony is guarded from prying eyes. Not only did the stars rent the entire resort for the weekend, they hired additional security and will host all of the weekend events indoors to discourage unwanted photos. The ceremony will take place under the signature gold, hand-painted ceiling of the Mediterranean Ballroom with a banquet to follow. And to top off the huge event, the couple has planned an after party that takes up four ballrooms.
Bless everything about the future Mr. Vergara. His bride isn't the worst either:
2. Speaking Of Guests, The List Is Pretty Amazing
Of course, Manganiello's family and Vergara's family from Miami and Columbia are expected to attend. But website Gossip Extra reported more than a few popular names among the list of 400 people invitees: singer and American Idol judge Jennifer Lopez; Vergara's Modern Family co-stars Ed O'Neill, Julia Bowen, and Ariel Winter; close friend Reese Witherspoon; Manganiello's workout buddy Arnold Schwarzenegger; and Jesse Tyler Ferguson (also of Modern Family fame), who introduced the couple in the first place because yes, sometimes life really is the cutest.
3. The Couple Opted For A Simple Menu
New York chef Daniel Boulud designed a simple menu for the big day, according to the Daily Mail, including a shredded kale salad with apple, walnut, pickled blueberries, blue cheese, and dill buttermilk dressing; a choice of wood roasted chicken with swiss chard or 14 oz grass fed beef strip; blue cheese potato gratin; watercress salad; and plenty of desserts.
4. Speaking Of Desserts, The Cake Was A Big Deal For Vergara
While we're still waiting for the first snaps of the couple's wedding cake, Vergara told Martha Stewart Weddings recently that the cake selection was kind of a big deal for her. "Cake is my favorite thing," Vergara said in her interview. "So the cake table is going to be super special, a big wedding cake and lots of desserts."
Congrats to the happy couple! Official photos from the blowout wedding weekend will be made available to the public on Monday, according to Gossip Extra.
Images: Frazer Harrison/Getty Images; @sofiavergara/Instagram(1,2,3); @jessetyler/Instagram(1,2)