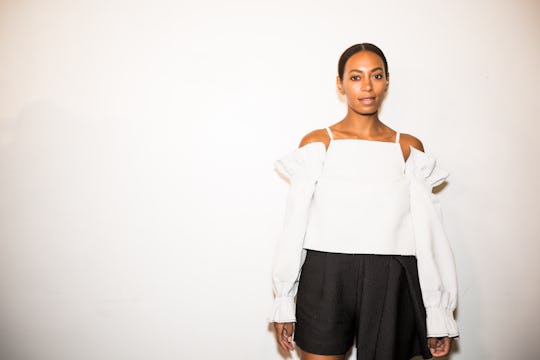 Solange Knowles Responds To Instagram Troll Insulting Her Son In The Best Possible Way
If there's anything scarier than the thought of being a teenager on social media, it's being a celebrity on social media. No matter how beloved, how charitable, or how talented you may be, there will be just as many haters online as people inexplicably stuck in 2005 and dying to be "first." And the latest star to confront unkind words on the Internet is Solange Knowles, who shot down an Instagram user who insulted a photo of her son, Julez. 
On Halloween, Knowles posted an image of Julez dressed as LL Cool J (at least LL Cool J in the days before his sole job was shilling CBS and Kangol hats). But what started as an adorable opportunity to applaud an 11-year-old's totally legit costume choice turned into an opportunity for a troll to insult a child.
Said the user, "So cute but at the same time he ugly." Say that to a full-grown adult, and it might be easy to shrug it off with a laugh. Say it to a mother about their child, and, well, you get what this particular troll got — a much-deserved classy take-down from Solange herself. 
Wrote Knowles:
"Jussst as I thought it was safe to share pictures again, a young'n like you decides to use her time to spread ugliness. I don't fault you, I can only imagine why you would feel the need to say such things, but thanks again for being a reminder that out of all the love and wonderful energy shared, that when I open up a space for an innocent beautiful being like my boy to be criticized and judged, that I WILL most likely respond, and that he receives enough love and celebration at home that it's just not worth it to go down this road. I hope that this really resonates with you and you make better decisions in the future towards how you use your words towards innocent children. And @ro.rxd get ya friend because this could have truly gone south if I was in the wrong mood." 
What do you say about that, Julez? 
Yeah, thought so. 
Of course, Knowles isn't the only celebrity to totally shoot down a hater in the best way. 
Zendaya 
After Zendaya stunned fans and TV viewers walking the Oscars red carpet, Fashion Police's Giuliana Rancic came under fire for saying the singer — rocking dreadlocks — looked like she smelled like weed. The singer, in turn, responded with an incredibly mature and smart take-down of the comments, educating followers while confronting Rancic's comments. 
Pink
It's impossible to be a pop star and not face constant scrutiny surrounding your body. (In fact, it's impossible to be a woman and not face constant scrutiny surrounding your body.) So, earlier this year, when fans started talking about Pink's weight, the singer shot back. And inspired me to want to change my email sign-off to "Love, cheesecake" forever. 
Gabourey Sidibe
The American Horror Story star also fielded body scrutiny on the red carpet of the 2014 Oscars, with many commenting on the actress' weight. Her response? Pretty much the 140-character version of this:
Danielle Fishel
Posting wedding photos on social media is typically almost as fun as the wedding itself — the memories of the evening flood back with every like, comment, and hashtag that makes its way onto your page. For Girl Meets World star Fishel? Not quite as fun. After she posted images from her wedding to Tim Belusko in 2013, fans responded by, of course, commenting on her weight. (Sigh.) Fishel, however, hit back with kindness, and another pretty bomb retort:
#Swish.
Image: Getty; saintrecords, zendaya/Instagram