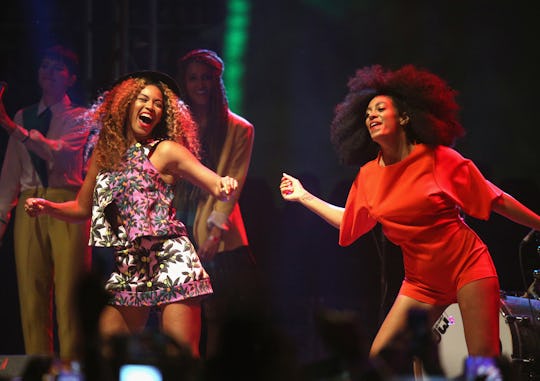 Imeh Akpanudosen/Getty Images Entertainment/Getty Images
Solange Is Basically The Best Sister Ever
Often, there is nothing like the bond shared between siblings. No matter what a person goes through, a sibling who is there with them through every moment — especially the great ones, like a birth announcement — can serve as the ultimate power-booster. Beyoncé and her younger sister Solange are definitely special sisters and one such power-sibling duo. Following the former's announcement on Wednesday, in which she posted a photo of herself cradling a baby bump and revealed that she was expecting twins, Solange's pregnancy Instagram story featuring sister Beyoncé only further served to prove that the two are basically the coolest siblings ever — next to Beyoncé's future twins and Blue Ivy, of course.
On Wednesday afternoon, Beyoncé took to Instagram to announce her big news — that she and husband Jay-Z are expecting twins sometime in 2017. Fans could not have been happier, taking to social media to share their excitement for the couple and celebrate the fact that something good had finally come out of 2017. But members of the "Beyhive" weren't the only ones to congratulate Beyoncé on her very exciting news — Solange wished her big sister well on social media, too.
Solange took to her Instagram Story to address the big news on Wednesday evening, reposting Beyoncé's announcement photo — where Beyoncé showed off her bare bump — and decorating it with different emojis, including a butterfly, two hearts, a baby bottle, a rainbow, and a crown aptly placed on Queen Bey's head. "Proud auntie," Solange wrote on the photo.
Beyoncé has spoken highly of her relationship with her sister in the past, noting on one occasion that she was hoping for more children so that daughter Blue Ivy might have as strong a relationship with a sibling as the one she shared with Solange. "I would like more children," Beyoncé told Good Morning America in 2013. "I think my daughter needs some company. I definitely love being a big sister [to Solange]."
Beyoncé and Solange's bond is definitely something that is sacred. In November, Beyoncé supported her sister during her first time performing on Saturday Night Live and was obviously influenced by Solange's musical stylings with her last album, Lemonade. The feeling of support is mutual between the two sisters as well: In an interview with Harper's Bazaar in October, Solange told the magazine how proud she is of her sister. "... I'm really proud of her work and her record and I've always been," Solange said.
Solange and Beyoncé had better enjoy being the coolest celebrity siblings ever for the time being — because once Beyoncé's twins are born, the the Knowles-Carter siblings may just take that title away.