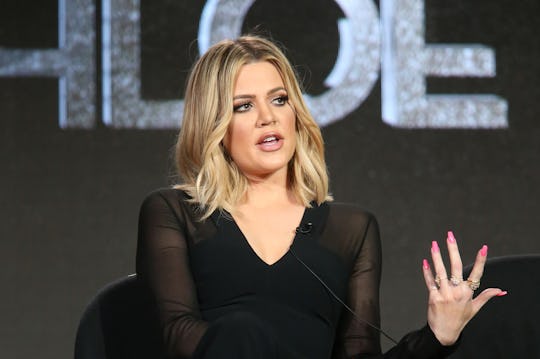 Frederick M. Brown/Getty Images Entertainment/Getty Images
Some Fans Are Pissed About True Thompson's Name, But Their Views Are Kinda Problematic
Keeping Up With The Kardashians star Khloé Kardashian finally had her baby, after months of speculation and plenty of waiting for fans and the Kardashian family alike. But as if fans didn't already have enough to talk about with this family, there's now drama around even poor baby True Thompson's name, because apparently no member of the KarJenner camp can ever catch a break, starting from birth. Some fans are pissed about True Thompson's name, but if you know anything about the rumors surrounding her birth, you may not be totally shocked to hear the reason why.
Khloé gave birth early Thursday morning, according to TMZ. Her sisters Kourtney and Kim, her mom, Kris Jenner, and Khloé's friend Malika were reportedly there with her for the birth. Interestingly, Tristan Thompson, her boyfriend and the baby's father, was also theredespite recent allegations that he cheated on Khloé while she was pregnant — news that broke not long before the delivery. Thompson's and Kardashian's reps did not immediately respond to Romper's request for comment on these allegations.
Those rumors are at the heart of why some fans aren't totally thrilled about True's name. Because it's not her first name they are mad about for the most part — it's her surname.
On Monday, Khloé posted a photo to Instagram that showed a room full of pink decorations and toys, as a way to announce her daughter's birth and name to the world. She wrote:
Our little girl, True Thompson, has completely stolen our hearts and we are overwhelmed with LOVE. Such a blessing to welcome this angel into the family! Mommy and Daddy loooooove you True!
And in the first sentence, she revealed that her baby daughter has Tristan's name, and not the last name Kardashian. After the rumors about Tristan broke, some fans said Khloé should give her daughter her surname instead. But it seems that she went with Thompson after all.
When it came to True's last name, a source reportedly told People:
Khloé still very much loves Tristan, and this baby is one half his. True is their child together. Giving the baby his last name was never in question.
But that doesn't mean fans have to be happy about it.
I mean, yes. Some people still had an issue with the first name too. But as far as the last name goes, a lot of fans questioned how Khloé could give her baby the last name of the man who allegedly cheated on her.
It sounds like Khloé actually had a really good reason for naming her daughter True, at least. Kris Jenner tweeted that True was the name of her grandfather on her father's side, and it runs in the family.
And as far as the last name goes, there are a few issues with fans having a problem with Khloé giving True her father's last name. The first is, of course, that it's really not anyone else's business anyway.
Secondly, people who have any problem with True getting the last name Thompson are assuming that the rumors are true. They are still technically just that — rumors. Thompson's and Kardashian's representatives haven't confirmed anything, and we may never know for sure exactly what happened, if anything. It's also still unclear whether the person featured in the videos that allegedly show Thompson cheating was actually Thompson.
Fans really have no idea what went into the decision to give True Tristan's last name. Maybe Khloé just liked how it flowed. Maybe the allegations aren't true. Maybe they are true but it was still important to Khloé that her daughter have her father's last name. Fans can't really know the whole truth here.
People definitely let Khloé know their opinions on the matter on the Instagram post. Comments ranged from "True Kardashian sounds better," to "seriously 'thompson.'"
Ultimately, Khloé can name her baby whatever she wants. I can see why some fans might think Kardashian is a better option for True's last name, but they really can't know the entire story behind Khloé and Tristan's relationship and their daughter's birth, and probably never will. It doesn't really matter if they're pissed, because True Thompson is her name, and Kardashian followers will have to deal with that, like it or not.
Check out Romper's new video series, Bearing The Motherload, where disagreeing parents from different sides of an issue sit down with a mediator and talk about how to support (and not judge) each other's parenting perspectives. New episodes air Mondays on Facebook.