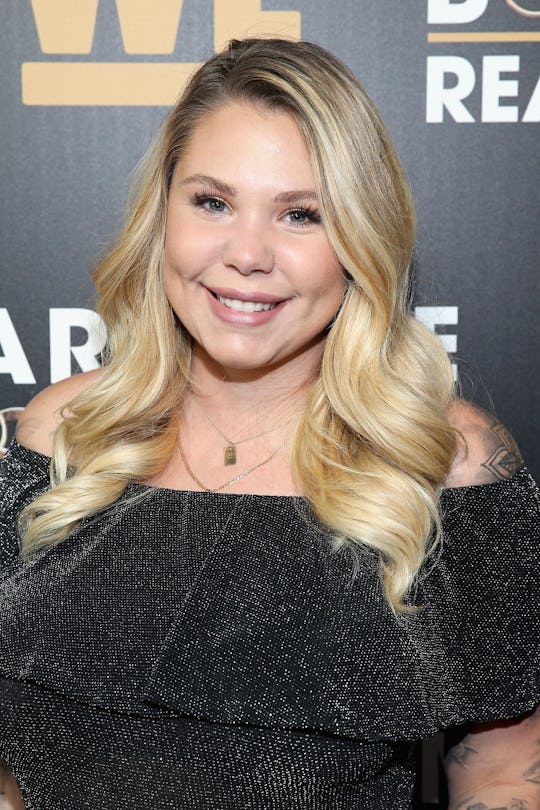 Bennett Raglin/Getty Images Entertainment/Getty Images
People Are Shaming Kailyn Lowry For Going Back To School, Proving Single Moms Face So Much BS
In May 2017, Teen Mom 2 star Kailyn Lowry graduated from Delaware State University. Lowry, who spent six years working to obtain her bachelor's degree in mass communications, is the only Teen Mom star out of the entire franchise to complete four years of college. It's a pretty admirable feat, to say the least, especially when you consider that Lowry was raising two young boys at the time. And just when you thought things couldn't get any more impressive, Kailyn Lowry announced that's she's going back to school to become a registered nurse (RN). Unfortunately for Lowry, however, many fans are shaming her decision to further her education. While some people might be confused by the shade being thrown in Lowry's direction (what's criminal about bettering yourself right?), it's not too surprising when you consider the laundry list of double-standards and unfair stigmas that single moms still face.
Shortly after Lowry graduated in May, she told E! News about her plans to get a master's degree. Although Lowry didn't specify at the time what subject she intended to pursue, she did confirm that college life isn't easy without a proper support system. "It's been a long and emotional journey, especially without any support from my parents," Lowry said, according to E! Online. Additionally, Lowry was a single mom pregnant with her third child, Lux, when she walked across the stage to receive her diploma. To say Lowry went through a lot to become a college graduate is quite the understatement.
But to Lowry's credit, she's ready to push past her struggles once again to become a nurse. After Lowry tweeted on Tuesday that she's "going back to school," she revealed to a friend that she hopes to be an RN.
Sadly, it didn't take long for Lowry's haters to come out of the woodwork to critique her parenting and choice to return to school. "Have nothing better to do with your time, I guess...," one person wrote. "Another useless degree since you won't use it, and one more reason to pawn your kids off on other people."
"Just an excuse not to work or raise her own kids," someone else added.
Another fan argued: "Can't handle real life, can't live without child support, student loans and MTV money. Poor role model."
Of course, one has to wonder why Lowry is facing so much backlash for doing something positive in her life, especially when her critics' arguments can be easily debunked. For starters, a person can still be a present and amazing parent while they obtain a degree. Sure, they might have to juggle a hectic schedule and make sacrifices here and there, but I don't see how someone is a bad parent if they pursue a college education. And in Lowry's case, she included her two older sons, Isaac and Lincoln, in her educational journey. In fact, Lowry kept the boys updated on her college pursuits throughout the years (these many chats were captured on TM2) and the two were there cheering Lowry on at her graduation. Not only did Isaac and Lincoln get to be a part of something positive in their mom's life, but they were also taught an important lesson about hard work.
Not to mention, taking advantage of child care is not equivalent to "pawning off" your kids. Many working parents, single or not, rely on child care, and it's not an indicator of bad parenting. Although some parents wish they could stay at home with their kids all day, it's not often something that's financially possible. Plus, there's nothing shameful about a parent wanting to enjoy a career.
So, when you consider these myths about parenting are easily disprovable, one can assume they were solely invented to shame parents, especially single moms. For what feels like forever, single moms have been villainized for their single status, whether chosen or not. No matter what the situation is, it seems like single moms can do absolutely nothing right. If a single mom stays home for instance, they're lazy or they're exploiting their former partner for child support. If they go to work, on the other hand, they're abandoning their kids and are shirking off their responsibilities.
And in the United States, lawmakers don't make it easy for single moms, especially those in low-income situations, to excel. But at the same time, these lawmakers shame single moms for supposedly not bettering themselves. It's an impossible situation that makes it seem like society just doesn't like or approve of single moms.
In comparison, single dads seem to be praised for their self-improvement or career milestones. In the TM2 world, for example, the father of Briana DeJesus' child was celebrated when he finally decided to get a job as a trucker. Or when Teen Mom OG star Tyler Baltierra started his clothing line, I didn't notice any talk of how his business could be detrimental to his parenting abilities. While it's wonderful to praise dads for doing well in life, it's a bit disheartening that single moms don't receive the same type of accolades.
The good news is Lowry does have supporters in her corner.
"Oh stop. Don't put her down 4 furthering her education! She has 3 babies 2 care 4 It's also a sign of being healthy! She's not down, depressed," one fan wrote.
Someone else said: "This gave me chills... You go girl!! Make your babies proud."
Whether you like Lowry or not, it's important to recognize that her going back to school is a positive thing that is worth celebrating. Single moms deserve respect and kindness, and Lowry is no exception.
Check out Romper's new video series, Bearing The Motherload, where disagreeing parents from different sides of an issue sit down with a mediator and talk about how to support (and not judge) each other's parenting perspectives. New episodes air Mondays on Facebook.