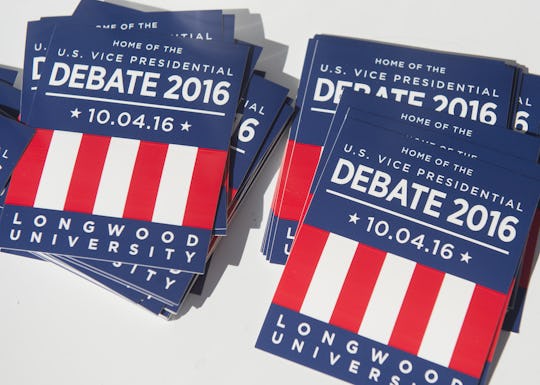 SAUL LOEB/AFP/Getty Images
Some Of The Best Vice Presidential Debate Memes Prove That Voters Are Really Feisty
Democrat Tim Kaine and Republican Mike Pence had their one and only chance to go head-to-head on the political issues of their running mates' campaigns during the first vice presidential debate on Tuesday, Oct. 4, at Longwood University in Farmville, Virginia. The debate was expected to attract a huge audience, given that last week's presidential face-off reportedly brought in a television audience of nearly 84 million people. Just as Donald Trump's sniffling and consistent interruptions and Hillary Clinton's shoulder shimmy inspired hilarious reactions on social media, these amusing and on-point vice presidential debate memes were born in true internet fashion.
Starting at 9 p.m. ET, Kaine, a senator from Virginia, and Pence, the governor of Indiana, duked it out for a scheduled 90 minutes without commercial breaks, like the first presidential debate. But unlike their presidential counterparts, their VP hopefuls' debate lacked the same level of hype.
Sen. Kaine and Gov. Pence had a lot of answering and defending to do on stage and had to be prepared to answer anything asked by the debate's moderator Elaine Quijano of CBS News. This is because the debate topics Quijano picked were not released before Tuesday night. That being the case, according to ABC News, both candidates worked on their debate skills leading up to the big day, so that they'd prepared for whichever hardballs came their way.
But no matter how hard the two tried to be serious grown-up politicians, social media was having none of it. Here are some of the best and most hilarious memes, tweets, and jokes inspired by the first and only vice presidential debate of the 2016 election:
Although the face-off between Sen. Kaine and Gov. Pence lacked the same pre-show excitement and on-stage drama that the presidential candidates brought last week, the vice presidential debate was equally, if not more important than their running mates'.
One of the many reasons for this is because Tuesday night's debate was the only chance Americans had to see and learn the VP candidate's personalities, stances on policies, and how they side with either Trump or Clinton's opinions on the issues.
When you mark your vote on Election Day, you're also voting for each candidate's right-hand man. It's a very important decision because there is a chance that one of these guys could be the next president of the United States, should the worst happen (or in case someone does something impeachable).
But even though vice presidential debates typically tend to be a bit more uneventful and less dramatic than the presidential face-offs, this collection of politically on-point and, at times, snarky memes are a reminder that voters are paying incredibly close attention: