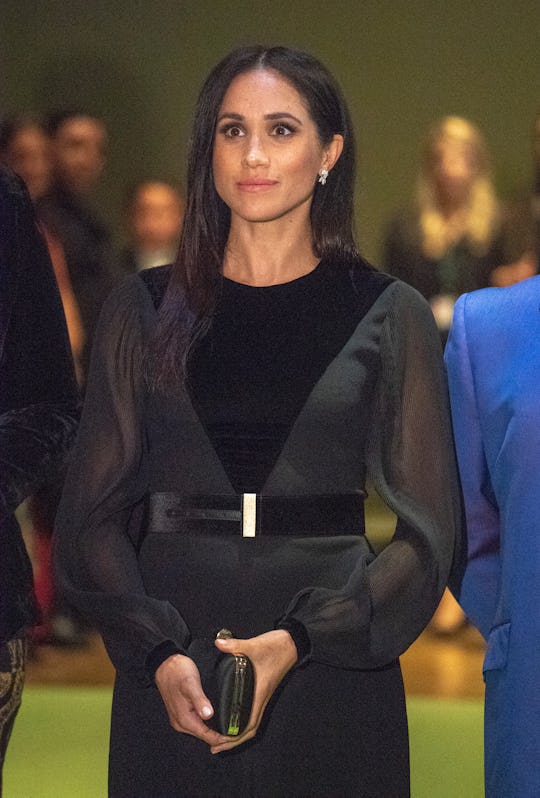 WPA Pool/Getty Images Entertainment/Getty Images
Some People Seriously Think Meghan Markle Is Pregnant Because Of Her Hair
When you're a newly-married member of the royal family, it seems like fans and the media all have one thing on their minds: Royal bump watch. For newlyweds Prince Harry and Meghan Markle, this is pretty much their everyday reality. If Markle is wearing anything loose-fitting, then it must be because she's hiding a bump. The Duke and Duchess of Sussex recently adopted a dog — so of course, they're "practicing" for a child of their own. Now, apparently some people think Meghan Markle is pregnant because of her hair. And I'm not buying it.
As most of us are probably aware, Prince Harry and Markle tied the knot on May 19 in epic fashion as the world looked on. Although the royal couple has expressed that they'd like to have children one day, they've never exactly shared a timeline. (And they have no obligation to do so.) However, it doesn't seem as if they're wanting to rush into it right away. "Meghan and Harry have a busy rest of the year," a source "close to Kensington Palace" recently told Us Weekly. "They are excited to start a family but have always wanted to focus the first year of marriage on their official work and starting to bring awareness to causes close to them. That is their main focus before starting a family."
Even so, a new theory has emerged predicting that Markle might already be pregnant — and it all has to do with her new hair, according to Cosmopolitan. As royal watchers noticed right away, instead of her usual gentle waves, Markle sported straight hair with new layers for the Coach Core Awards yesterday. Now, if you're anything like me, then you're probably thinking, "Okay ... so what? She got a trim and she decided to try out something different. What's the big deal?
Apparently, the theory is that Markle is taking a page from Kate Middleton's "playbook" — meaning that Middleton always seems to debut a new hairstyle right before announcing a pregnancy. As Cosmopolitan reported, Kensington Palace announced the Duchess of Cambridge was expecting baby number three in September 2017. This wasn't long after the Evening Standard's political reporter, Kate Proctor, totally called it, tweeting, "Pattern is Duchess of Cambridge changes her hairstyle, people concentrate on her head, then announces pregnancy. My gfs called this wks ago!"
For the record, the same pattern rang true when it was announced that Prince William and Kate Middleton's first child was on the way. In late November 2012, Middleton rocked a new hairstyle with a fringe. The very next week came the pregnancy announcement. I guess the idea is the new hair gets the media focusing on that for little while — so that everyone forgets about the never-ending bump watch for a hot second, and the world is completely surprised when a pregnancy announcement does happen.
But this isn't even the strangest pregnancy theory to pop up since Prince Harry and Markle tied the knot in May. When word got out in August that the Duke and Duchess of Sussex adopted a black lab, many speculated that a baby could naturally be next, according to OK! magazine. Pregnancy rumors started flying again at the beginning of September, when Markle wore a blue dress with ruffles over her mid-section, according to Hollywood Life. (Because obviously, the ruffles meant she was hiding something *eye roll*.)
Still, for one reason or another — whether it's her hair or her outfit choices — plenty of people seem to be convinced in the past week that there's another royal baby on the way. One person tweed, "After the pics from today's event, I'm convinced Meghan Markle is pregnant. Calling it now."
Another Twitter user wrote, "Y'all, I'm calling it: Meghan Markle is pregnant."
Yet another person tweeted, "Forget her hair! Her shirt could definitely be hiding a royal bump!"
Still, others remain skeptical. One Twitter user wrote, "Really? Is Meghan Markle Hiding Her Pregnancy With Straight Hair?"
Another person mockingly tweeted, "Yahoo news has a dedicated section to news on Meghan Markle and today they suggested that her hair curled in a 6-weeks-pregnant kind of way."
I have to admit, Middleton's whole "hair trick" is a clever strategy and all. Except, newsflash: Kate Middleton and Meghan Markle aren't the same person. So maybe, just maybe, Markle switched up hair look just for the sake of something different. Regardless, the Duke and Duchess of Sussex will announce their baby news (if/when it happens for them) whenever they dang well please. So let's all just calm down and let them enjoy the royal, married life for a hot second, okay?